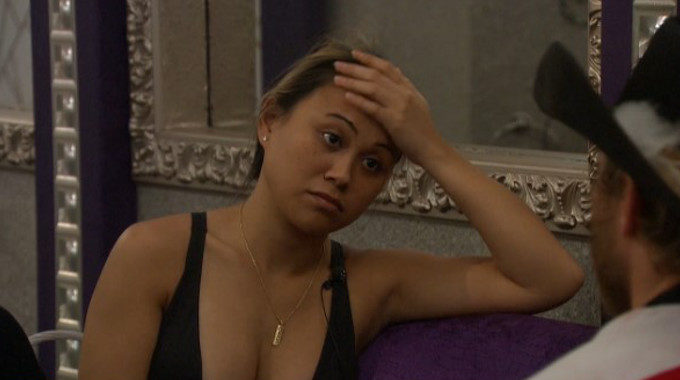 Tonight on Big Brother 19 the Houseguests are ready for the next Head of Household competition, but two of them are about to make a wrong turn on their journey. I'd say it's just because their naive and foolish, but that's not really an excuse. At least they're both in agreement in this terrible strategy so one can't blame the other later.
Last night Alex and Jason caught up while the rest of the house was sleeping. Talk turned to Thursday's HoH comp and whether or not Alex should try to win. Jason is the outgoing HoH so he's ineligible which would leave Alex to try and secure them safety. Now trading off HoH wins is a reasonable and smart game move for a power pair/couple to use, but the wool has been pulled so far over their heads they're wearing it like a Snuggie now.
Flashback to 12:53 AM BBT 8/31 Cams 3/4 on your Live Feeds. Get the Free Trial now!
Alex and Jason say they need to map out the rest of the season. They suspect there are three weeks left. Correct. Jason says that neither her (Alex) nor Paul can win HoH in the next two weeks. Pause. You know which HGs are the top targets for the next two weeks? Alex and Jason. Resume.
Alex says, "if it's me and Raven left, I'll just throw it to her." Jason agrees and says that they should throw even next week's HoH as well. Alex agrees with that as well and says they need either Josh or Christmas take that.
Have mercy. So this week Alex and Jason want either Christmas or Josh to win the HoH comp because they believe Kevin is the target. He's not. Jason is with Alex as a backup. Then the follow week they want the other of Josh or Christmas to win again and leave them free to compete the following week. Ugh.
If neither wants to win the following week then why, why, why wouldn't Alex want to win this week? Well the short answer is because Paul has convinced her to throw it, but why can't she see it wouldn't make any sense to do it. And why doesn't Jason push her to try and win safety for the two of them? If she's HoH then neither of them would have to be in danger the entire week. I feel like I'm taking crazy pills!
Tonight after the next eviction, where we can thankfully expect Matthew to leave, we can expect to be watching Jason on the sidelines as his closest ally tosses their game away. Christmas has asked everyone to throw this one to her since she can't help on physical comps so I wouldn't be surprised if she gets it.
At least we know Kevin will be trying for the win and that'd somewhat throw a wrench in the plan, but since he'd probably put up Alex and Raven the house would just vote out Alex and that'd still be Plan B for Paul and company. Only if we see Alex trip over herself and accidentally win HoH would we get any serious disruption in the week ahead. Hard to root for an Alex win though. Blerg.
What do you think of Jason and Alex's strategy here? Total disaster or will this work out better than I'm expecting? Share your thoughts below.