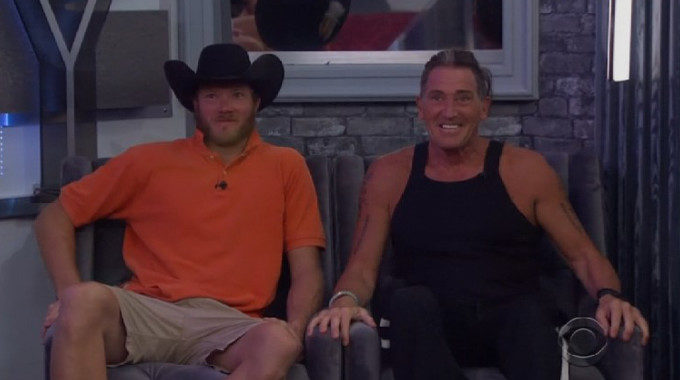 There are four votes this week in the first of two eliminations on Big Brother and little doubt over who will be off to Jury after Round 1 of tonight's Double Eviction. Jason and Kevin face off for a looming tie-breaker and it's easy to see who will be voted off Big Brother 19 tonight.
Christmas will be standing by as the tie-breaker and Paul's plan to put her in to play hasn't shifted. He's looking to vote alongside Alex to go against Kevin while Josh and Raven vote against Jason. That'll tee us up for 2-2 and put the decision on Christmas.
Christmas is prepared to take the blame and vote out Jason leading us in to the F5. Her actions along with Josh being posed as the flip vote will put the blame on the two of them for Jason's departure while Paul will try to position himself with Alex as her last ally.
I do not see any likely chance of a flip here even though it wouldn't take much. Josh has been getting misty-eye'd over the idea of blindsiding Jason to the point that you almost wonder if he's considering a surprise shift. It just doesn't make sense for his game though. If Alex was still up there then maybe Josh would flip and send her out over Jason, but Josh is not going to evict Kevin, the weaker competitor, and keep Jason+Alex in the game. Won't happen. He knows better.
From there we'll head in to the second round of the Double Eviction. With Jason gone and Christmas as the outgoing HoH there are just a few possible scenarios.
Alex, Josh, Paul, Kevin, and Raven will all be eligible to win HoH. Paul doesn't want to win this so he can go blame free in his play-all-sides game. Maybe he would if he had to, but I don't really think he has to. Paul is insulated in all directions from getting nominated much less evicted tonight. He won't be going to Jury this round (or probably at all, really).
The biggest target of the second round is obviously Alex. Josh, Kevin, and Raven would all target her. Again, so would Paul but we've been over that. If any of those three get HoH then Alex would probably go right up, but Paul has been making the case to use two pawns, likely the remaining two in that group of three, so Alex isn't tipped off that she'd be the target. With everyone playing Veto in the second round it doesn't particularly matter if Alex is nominated upfront or not, but that's just more of Paul playing the mindgames here.
Paul is going to try to convince Alex to throw the HoH comp saying that he wants to get the win and avenge Jason for the two of them, but once/if Alex is out then watch for Paul to "oops!" drop right out so one of his minions can do the dirty work.
Top pick for me in the second eviction will be Alex. After that I'd say either Raven or Kevin would go. Those two are interchangeable and disposable to the group. Josh isn't disposable for Paul and Christmas so I don't think he's a likely evictee.
There will be only three votes to evict in the second round which means if Paul and Christmas are together in the voting gallery then they control the eviction. Since both of them want to keep Josh as their F2 goat, he won't be going anywhere and they'll send out one of the other three instead. That should cover all the most-likely's for tonight.
Join us here tonight at 9PM ET to watch, but while we wait share your thoughts on what you expect.