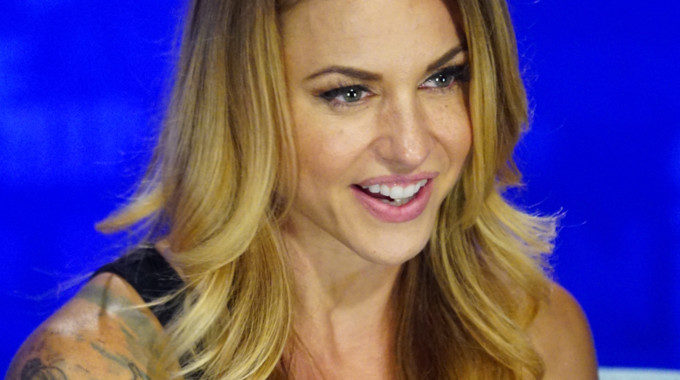 Christmas Abbott made an admission last night on the Big Brother Live Feeds and it sounds like she just might be revealing some personal feelings about another Houseguest, someone both close to her game and apparently her heart too. Or maybe she's just being way too cryptic and we're missing the target. Read on to decide for yourself.
Now with just two weeks left in Big Brother 19 we've been watching the trio of Josh Martinez, Christmas Abbott, and Paul Abrahamian move closer to the season finale. Paul is obviously leading the pack and that's starting to be an issue in the group.
In the past few days we've seen Josh start to call out Paul's moves and Christmas grow increasingly uncomfortable with his words. In last night's episode we heard from Christmas that she has to shutdown Josh's concerns because her plan is to have both Josh and Paul drag her scooter to the F2. But could there be more to her motives?
Flashback to 12:11 AM BBT 9/7 on your Live Feeds (get the Free Trial now). Here are the highlights of what Christmas revealed in a camtalk while alone in the HoH room late last night:
12:11 AM BBT – "Anytime I start to have a conversation and I suddenly have to whisper or walk around and watch my back or see who is coming. Or if I let my guard down for half a second, there's a camera on me. Or my heart flutters and I feel that.. I don't even know what I feel half the time… I know what I feel which is the scary part actually. That's what the scary part is. I know exactly what I'm feeling. Post show, I know how things work. I know that people don't really stay in touch. I know that friendships change, that dynamics change." Christmas goes on to discuss her friendships with Paul, Josh, Alex, Jason, and Kevin as well as how she wishes she could help Raven.
12:13 AM BBT – "I'm just not normally in a position where my heart gets away from me [says with a smile] and I feel like it's getting away from me. [laughs] My heart is getting away from me and it creates even more anxiety. Now you have another turn of anxiety and pressure and confusion and physical, emotional heartache.
12:14 AM BBT – "It hurts my heart that I'm so reserved here. That I can ask the questions that I want to ask… I can't say exactly how I feel and tell people exactly how I think of them for the good and the bad."
12:15 AM BBT – "I'm in this purgatory of emotion… and sometimes my heart stops."
12:16 AM BBT – "Paul makes me smile. There's a little nugget of information."
12:17 AM BBT – "I'm going to come out of here and discover whether or not my heart is broken or healed."
Christmas trails off there to put her headphones back on and goes quiet with her commentary. It's an interesting camtalk session and certainly opens some possibilities along with more questions.
Now we know Christmas called off an engagement and had previously planned to get married this past weekend but obviously that didn't work out. Maybe she's discussing something about what her heart desires back home, or maybe this is all about Paul. Talking about her heart fluttering, stopping, a purgatory of emotion, and how Paul makes her smile? Sounds like someone has a crush.
What do you think Christmas is saying here? Does she have feelings for Paul that go beyond "Friendship" and could those be clouding her game judgment when it comes to what Josh is telling her? Share your thoughts and what you think she's trying to tell Big Brother fans.