Showmance fans were sure treated during Wednesday's episode of Big Brother 19 as we got so much Cody/Jessica and Mark/Elena filler that we didn't even have time to get to the Veto meeting.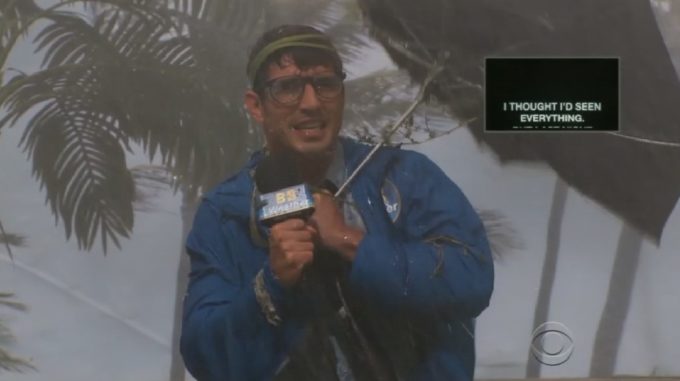 From start to finish it was the #Jody show as we start things off after Paul just put them on the block. And since he wasn't prevented from doing so, Paul thinks Jessica was bluffing about her power. So he invites the two of them to the HOH room to talk things out. Cody says it's pointless because Cody has never heard of a social game. Jessica wants to explain to Paul that he made a mistake nominating them, but Cody, being the typical alpha, won't let her speak.
And that conversation doesn't last long before Paul and Cody start fighting. Cody gets in Paul's face and Paul tells him to leave the room. And since Jessica can't think without Cody, she follows right behind him.
Thankfully Jessica tells Cody that he overreacted and that this is a game. He tells her that to him it's not really a game. He tells her he doesn't care and she says "but I care." Jessica doesn't want to go through this again. And this leads to a real-life conversation. Jessica asks Cody if she's going to have to deal with him being a hothead in real life. And then she leaves the room. "And this is why I'm single," Cody says to himself.
Elsewhere, Paul is going off on what Cody did, and as usual, Josh jumps in. And since Mark has had it up to here with Josh, Mark tells him to shut up. And Josh and Mark go for round two this season. Josh pulls out the pots and pans and Mark goes at him. Mark grabs the pans and production has to come on and tell them to get to opposite sides of the house.
Oh, and it should be mentioned that Mark is still in a tutu from the safety competition.
Paul and Jessica finally get to talk. Paul tells her that he thought when he nominated them, he'd be told they can't be on the block and he'd have to nominate two others. And she finally explained to Paul that they can be nominated but she can use the Hex to cancel the eviction.
And since Jessica is already angry with Cody, Paul gets to work on making her doubt sticking by Cody in the game. Paul thinks if Jessica sees how bad Cody is for her game, she won't use the power and they can send Cody out.
Christmas gets in on the action and has some girl talk with Jessica where she offers the same kind of advice: let Cody go and Jessica can try to play the game without him. And while they're talking, Cody comes into the room to move his stuff out. And that angers Jessica even more. She's really starting to wonder if this is how Cody will be outside the house.
Jessica eventually realizes that Cody is really the only person she has in the house that she can trust. So even though she's frustrated with Cody being a hothead, they basically patch things up. The producers would like us to think there's still a chance Jessica won't use the Hex, but let's be serious, she's going to use it. So let's move on to the veto competition.
Joining Paul, Jessica, Cody and Jason in the BB Storm Winning competition are Kevin and Raven.
In the end, Paul won the Power of Veto. That's two seasons in a row for this competition. Second place was Raven & Kevin (tied), then Cody behind them.
Paul worked on Jessica some more and production works on us some more, trying to make us think Jessica won't use the Hex. But to humor Paul, Jessica asks for two weeks of safety and requests that whoever wins HOH puts up Alex and they take her out. Paul says he'll work on it.
And since we all know what's going to happen Thursday, we don't even get to see the Veto Ceremony. The episode ends in Jessica saying Cody could go home Thursday (he won't)… Find out what happened with our Veto meeting spoilers & Jessica's decision on Paul's Hex'd offer.
Gallery: Episode 17 Power of Veto Pics