Yesterday things really fell apart in the Big Brother 19 house as Houseguests took a turn for the worse in their behavior. Paul and allies hoped to shake up Cody's confidence and will to compete with their "Crack Cody" Plan, hoping to sway Jessica against using the Halting Hex this week. Well, it looks to have backfired for the house majority.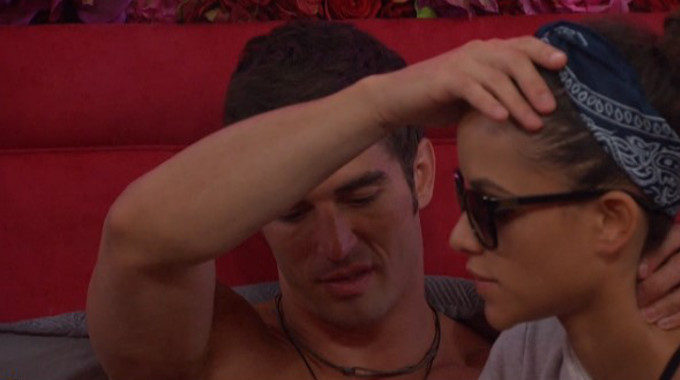 We've already detailed out the extensive list of events in Monday's daytime Feeds Report and the overnight Feeds Report, so no need to dig too deep there, but things kicked off on Monday after the Veto Meeting where Paul decided to save Jason making Jessica & Cody the week's final noms.
Paul built the case to his allies that it'd take aggressive "emotional warfare" on their part for the next few days if they wanted to get Cody out despite the Hex power that could keep him and Jessica safe. Paul and Christmas spent time coaching Josh on how to get Cody to blow up.
Not everyone was on board as Matthew questioned if they should really be trying to get someone who has killed other people in war to snap inside the house with them. That didn't go over so well with Christmas.
Setting up even more in all this was a confrontation between Raven and Jessica earlier in the day where Jessica accused her and others of changing the conversation whenever Jessica came near. There were denials and protests, but that added fuel to the fire later that afternoon.
You can Flashback to 5:03 PM BBT to see the peak of the very heated house with several of the HGs shouting at Jessica back and forth before the anger spilled in to the backyard. The whole thing was a nasty mess and very unpleasant to watch.
Eventually Big Brother called several HGs in to the DR, starting with Paul, and told them they were not allowed to incite violence or promote self-eviction for other HGs. So no more trying to get Cody to punch someone or attempting to make him want to quit the game.
That idea did end up becoming a topic of conversation between Jessica and Cody. She asked if he wanted to walk from the game and go to her place just a few minutes away. Cody agreed that he'd leave with her, but it didn't come to more than that. Later Jessica came down from that perch following a DR conversation that renewed her spirits.
In fact, Cody and Jessica now appeared reaffirmed in their plans to use the Halting Hex on Thursday. Jessica is now definitely going to use the Hex and see if they can go after Paul. They're probably more ready than ever to fight for the power next week and they're going to need it if they hope to survive much longer.
Lucky for them, the new Temptation Competition twist is going to give them a third chance at safety for the next two weeks as well making it harder to be Backdoor'd. It won't be easy for the targeted pair to survive to the end without a big shift in the game, but their odds are improving.
What do you think of all the chaos yesterday? Was it "all's fair in love & Big Brother" or was it too over the top, even for BB?