There are twelve votes ahead this week on Big Brother 19 and there's plenty of uncertainty going around for which side will win the battle for the votes for the first eviction of Big Brother.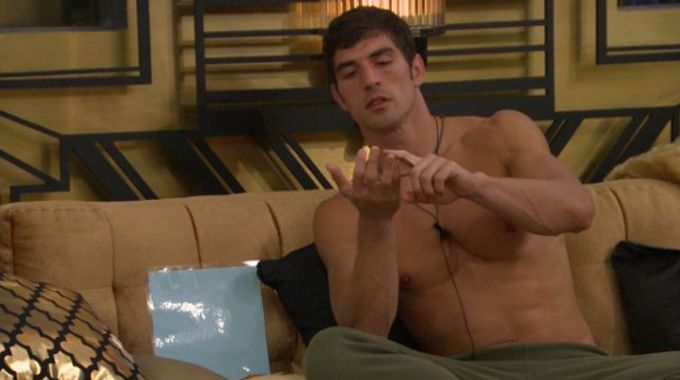 We almost thought there'd be a wrench in the works after Christmas badly injured her foot, but she's back in the house with a cast and crutches. She won't be much help to her allies in the physical comps, but she's a vote and proponent in the fight against the showmances. Meanwhile you've got Jillian on the other side and yeah, it's just Jillian. She's there and a vote too.
With an even number of votes there's a chance that Cody's influence on the week isn't over just yet. If things fail to tip in one direction then Cody will send Christmas out the door. Without a doubt. So her side better lock down seven votes and avoid that situation if they want to keep her, but it might not be easy.
Right now we've got Cody and Jessica pressing hard on their former close allies to keep Jillian over Christmas. Jessica is working on Raven and Elena while Cody has been talking with the guys. That effort isn't going so well. Elena, Matt, and Raven seem pretty set on voting to keep Christmas. Mark is wavering a bit. He wants to remain loyal to Cody, but also seems to want to keep Christmas. Mark has told Cody he'd wait a few more days to decide and would see then, but he's also had a long talk with Dominique who appeared to bring him back to keeping Christmas.
So that also gives us Dominique and Paul squarely in the VTE-Jillian camp. Paul has been working on Kevin, but Kevin is questionable still at this point in my mind. He and Josh could end up our swing votes for the week. I believe both have promised both sides, but if they vote in opposite directions, I wouldn't be surprised to see Josh stick it to Cody on the vote and help try to keep Christmas. Kevin seems close to Paul, but he may have also promised Alex support here. Originally I had both of these guys, Josh & Kevin, in the VTE-Jillian column, but in case they're not as set as I thought I'll mark them "uncertain."
Update: This afternoon Josh cam-talked that he'll prove his loyalty to Paul & Christmas by voting out Jillian and playing on their side. I'll move him over to that group then which gives them the edge, if they hold Mark or pull in Kevin.
Alex is definitely wanting to keep Jillian at this point. She's talked with Jason and both feel that Cody helped them out this week so they want to return the favor. Alex thinks Cody threw the Veto to her so he could do a renom while Jason knows Cody could have easily given in to the group and put him on the Block. Paul has been working on these two as well and I started to think he had Jason, but then you hear Jason talk with Alex and he seems back to voting to evict Christmas.
That leaves us with Ramses. He's not in the former group of nine but even Alex and Jason don't know quite how much he's with them either after they discuss if he's just fishing for info with them. Since he is more of an "outsider" at this point I would expect him to vote to keep Jillian.
Update: Ramses confirmed to Elena that he has to vote to evict Christmas because he already promised to keep Jillian and it's too late for him to change that.
Running all those numbers down gives us a close situation, but as of last night, here's where I believe votes may lie. This has been a very fluid situation though, more so than many weeks of Big Brother, so put these down in pencil.
Christmas VTE: Jessica, Alex, Jason, & Ramses
Jillian VTE: Dominique, Elena, Mark, Matthew, Paul, & Raven, + Josh
Uncertain VTE: Josh & Kevin
Now that Josh has declared he'll stay with Christmas then that's enough votes if all of her allies hold their position even if Kevin helps vote against Christmas, which I'm still not convinced he'll do, especially if he finds out the numbers are against them there.
How do you think the votes will go? Which side of the house will win this battle? Share your thoughts and vote now in our own poll here to see what our readers predict will happen on Thursday night's live eviction show for Big Brother 19.