No one is coasting in to Thursday night's eviction except maybe Jillian. Most of the house has been scrambling from one room to the next talking through their plans and trying to gauge just where the votes will be. Even from our vantage point this is still a tough call, but we've got the latest on that too.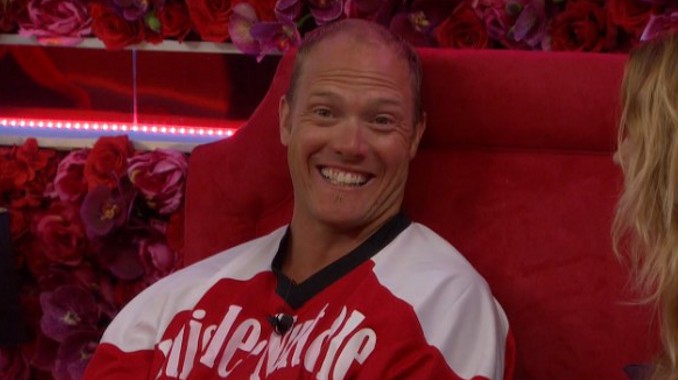 Paul is playing at full speed here and could end up going too hard too fast if he's not careful in his bid to save Christmas. Could his method of too much pressure backfire and give Cody the votes he thinks he might already have? Two and a half days to go.
If you've got the Live Feeds (Free Trial) then you can watch all of these moments with the Flashback feature to go back and watch those important conversations or funny scenes you may have missed.
Big Brother 19 Live Feed Highlights – Tuesday, July 4, 2017:
9:45 AM BBT – Feeds are back after a late sleep in for the HGs on the holiday.

10:35 AM BBT – Jason and Paul talk. Jason is blowing smoke at Paul telling him no one would want to put him up on the Block and how safe he is. Paul denies, but admits he's got 2 weeks of it at least.

10:45 AM BBT – Paul promises Alex and Jason that he's going to blow their minds with a huge move when he gets to be HoH. He won't share any details, but promises them it's "gold!"

10:55 AM BBT – Cody lets Jessica know that Jillian is planning to act disappointed like she's expecting to go home.

11:15 AM BBT – Cody praises Jessica that she's helped rally the troops and has been a big influence on the game so far. Jessica worries how she'll be perceived for playing tough, but Cody reminds her that Rachel played hard and was liked for it. Jessica points out Rachel was a "love-to-hate" HG.

11:55 AM BBT – Josh camera talking that he's going to prove his loyalty and will vote to keep Christmas in the game. He tells us he's with Paul, Christmas, Raven, and Dominique now.

12:45 PM BBT – Josh checks in with Christmas and confirms he'll be voting to keep her. Josh worries he's alone in the game, but Christmas assures him he's in a better position than he imagines.

2:20 PM BBT – Paul working on Kevin to vote to keep Christmas.

3:30 PM BBT – Matthew is anticipating a Houseguest will be returning. Jillian asks Matthew for help with an eviction speech that can sway speeches. Matthew doesn't know what to tell her. She mentions Dr. Will's speech, but doesn't think she can pull that off.

3:30 PM BBT – Cody and Jessica feel pretty good that Christmas has nothing to offer in deal making at this point.

4:40 PM BBT – Jessica and Jason are having a deal-making talk. Jessica says her vote will tie up the count and then Cody will break it to keep Jillian. Jason manages to drop "f*g" in to the conversation, saying he isn't going to lay down and take it in the game. They shake on the deal and he leaves.

4:44 PM BBT – Jason is downstairs talking plans with Paul and they shake on it. Well he's going to upset at least one side this week.

4:50 PM BBT – Elena asks Ramses if he'd consider voting out Jillian, but Ramses says his vote has been long since promised and it's too late for him to change that now. She suggests she could try to secure him safety for when he has to apply his curse of putting himself on the Block. Ramses doesn't accept her offer.

5:00 PM BBT – Christmas, Raven, and Matt agree that Cody threw the Veto comp. They don't believe how poorly he performed especially after winning the HoH apple-balancing comp.

5:20 PM BBT – Matthew says he has info on Cody that could split him up with Jessica. He does not elaborate.

5:40 PM BBT – Jason talks with Kevin about Paul's hard push. Kevin tells Jason to just tell Paul what he wants to hear then he'll get off his back.

6:00 PM BBT – Elena and Christmas discuss the idea of letting Paul take this HoH. They obviously won't give up until Alex, Ramses, and Jason are out.

6:15 PM BBT – Jessica is working on Matthew, but he says he's voting to keep Christmas. She questions him that this will force him to pick whether or not he's with her or Christmas. Says he's hurting her game with this move.

6:30 PM BBT – Christmas is talking with Jason and they're going back and forth for awhile. Jason says he's already promised his vote to keep Jillian. Christmas tries to sway him. Elena has joined the conversation.

6:55 PM BBT – Ramses reveals he's planning to use his curse next week. It forces him to go on the Block in the first 3 weeks (sort of an opposite effect of Paul's DoT reward).

7:00 PM BBT – Elena tells Jason that they've got probably eight votes, so his is irrelevant anyway and he might as well go ahead and vote with their side. She leaves the talk.

7:10 PM BBT – Paul was pushing yet again on Jason telling him things he says he heard about Jillian making a side deal with Cody and Jessica. Paul leaves and Alex jumps right on it saying Paul is lying to them. Then she's not so sure, but she seems not to trust Paul. Jason says if they gamble and vote to keep Jillian but have misjudged this then they're in big trouble.

7:15 PM BBT – Feeds cut for the HGs to enjoy a Fourth of July party.

9:00 PM BBT – Feeds return from the party. Mark, Elena, and Paul discussing Ramses's plans to use his curse next week.

9:05 PM BBT – Dominique comes in and asks the group about a supposed sky writing message suggesting there was a Mark & Dominique alliance. (From what I saw yesterday, the message had nothing to do with BB.)

9:15 PM BBT – Mark and Dominique wonder what to do. They decide to keep their distance. Dominique says Elena probably has an issue with her.

9:20 PM BBT – Mark talks with Jason and tells him they need to evict Jillian. Jason agrees and says he's with Mark. Mark says not to tell Alex about the voting. Mark's next two targets are going to be Jessica and Cody.

9:30 PM BBT – Cody working on Alex with Jillian. He says he's done with the old alliance and only wants to protect Jessica and Mark. He's planning to tiebreak on Thursday and the other side will crumble. Cody says Matt is afraid of Alex.

9:45 PM BBT – Cody tells Jessica he'll put up Matt without an problems. He considers Matt is someone now coming after him. Cody calls the former alliance "damn traitors."

9:50 PM BBT – Paul is back to working on Jason and Alex. He says he wants to get Cody out but won't put him up right away. He's again pushing that Jillian may have a secret deal with Cody. Paul says the vote could end up 9-2 because everyone is about to come after Jessica and Cody. Jason points out that Cody saved him. Paul counters that Cody didn't save him, he just is making it look that way now. Jason doesn't think Jillian will be evicted. Paul tells him to go ahead, but it's going to end up looking badly for him.

9:55 PM BBT – Jason worries that Paul is telling the truth, but Alex still thinks Paul is lying. Jason thinks they need to change sides, but Alex strongly opposes it insisting that Paul is lying. Alex thinks their votes could be hidden with others so what does it matter. Jason points out if it's 9-3 they'll be exposed for not going with that side.

10:30 PM BBT – Mark tells Elena he wants to date her outside the house. Elena says she hadn't considered it.

10:40 PM BBT – Cody revealed to Jessica that he had a short term girlfriend when he came to BB. (This may be what Matt hoped to use as ammo.)

11:00 PM BBT – Raven with Dominique discussing how Jessica appears to be doing Cody's dirty work for him.

11:10 PM BBT – Jason with Cody and Jessica saying the other side is pressuring him that he'll become a target if he doesn't go with them. Cody again hoping to be the tiebreaker so he can be the one to send her out. Jason is frustrated because no one talked to him for weeks but now everyone is all over him.

11:55 AM BBT – Josh getting the talk with Cody and Jessica. They promise Josh "week to week" safety and say he'd be the deciding vote so he's very powerful now. Josh agrees to keep Jillian. Josh leaves and Cody is pleased with how it went.

12:50 AM BBT – Josh lets Paul know that Jessica and Cody tried to get his vote so he did say he'd vote with them, but he's actually planning to vote out Jillian. Paul is thrilled. Josh didn't like that Cody and Jessica ignored him all week but now want to talk game. Paul promises not to reveal anything of this.

2:00 AM BBT – HGs all off to bed.
It's still really close and we saw today that Josh was set to stick with Christmas and company while Ramses is going for keeping Jillian. If Mark sticks with Elena and Christmas then it won't matter what Kevin does. There's still plenty of time for everything to fall part and that's why we'll keep watching.
With the late night revelation that Josh is playing Jessica and Cody that should make for a very hectic Thursday show, but the idea that Josh is hoping to deliver a side of wild for the night doesn't surprise me at all. Should be an exciting show.
You can watch all of these Big Brother events using the archives Flashback, the DVR-like feature of this year's Live Feeds which means it's always live, even when you missed it! Sign-up now to get the free trial to watch it all live & uncensored.


Gallery: Live Feeds Highlights