Christmas Abbott broke her foot last Monday in the Big Brother 19 backyard but she's stuck around despite being restricted by crutches and a cast. While she's done her best to hold out and keep playing we're learning there's more ahead that could give her trouble.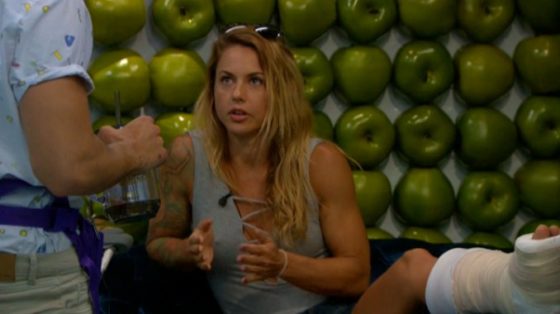 Last week Christmas revealed privately to Paul that her break was bad enough to warrant pins and that she'd be leaving the Big Brother house temporarily for the surgery on Monday. Last night she revealed to him in private that the procedure had been delayed as she continues to keep her fellow HGs in the dark over the severity of her situation.
While the last of the HGs were heading to bed on Sunday night Paul mentioned to Christmas "good luck" on her upcoming procedure which lead to the new details being revealed. Flashback to 1:47 AM BBT 7/10 to watch. Grab the Free Trial to get started with All Access.
Paul: Good luck tomorrow. Positive vibes coming your way.

Christmas: Thank you. Um, it's delayed.

Paul: Excuse me?

Christmas: It's delayed.

Paul: Till when?

Christmas: Wednesday.

Paul: Oh really. So are you not going…

Christmas: I'm going tomorrow. *Feeds cut*
This sounds like even though the surgery was pushed out a couple of days that Christmas will still be leaving on Monday to see the doctors. Considering the severity of her medical situation I'm not surprised, but at a certain point I can't help but thinking we're not far from the end of seeing Christmas this season.
Last week Christmas was determined to come back to the game. It was a high stakes week for sure and she didn't want to not be there to help finish out the week. She was also on the Block and her departure would have possibly given Cody another chance at nominations, as we discussed. Now that's past and this week's vote looks to be a lock after today's Ceremony. Her involvement is no longer as critical this time around. If Christmas is having to leave for pins then she may finally admit to herself that she'd have a better recovery outside the house.
There's been a lot of discussion in our Twitter timeline with some fans who feel it's unfair that she hasn't been pulled. I don't think it's too much of an advantage to break your foot and be physically limited and likely prevented from participating in comps. But at a certain point I'd agree that it's just too much and with her livelihood being physically active it seems to make more sense for her to bow out. However, if her doctors say it's okay, production agrees to it, and Christmas makes the choice, then that's all up to them, not us.
As for what Christmas may be considering, here's something else worth noting. After she packed up last week, as all nominees are required to do in case they are evicted, it appears that Christmas has not unpacked. Here she was spotted getting things out of her suitcase on Sunday morning, days after she survived eviction. She hasn't unpacked. Christmas may be anticipating the end is nigh for her game.
Christmas is living out of her suitcase in the SR ! THAT ALONE should tell you something! #BB19 pic.twitter.com/3zSYt9LHO0

— MichelefromdaBronx (@UgotBronx) July 9, 2017
What do you think of the situation? Is it detrimental to the game for Christmas to get medical attention and return as other HGs in other seasons have done? Should she say goodbye to Big Brother 19 and hope for a chance to return some other season while remembering there's no guarantee of that. Share your thoughts and we'll keep an eye out for what happens today and Wednesday with Christmas's surgery and broken foot.
Update: Monday evening around 6:15 PM BBT the Feeds returned from Christmas announcing to the HGs that she would have to leave the house for surgery. Since the message was given behind down Feeds we don't know the exact details shared. HGs are now aware she'll be going for the surgery and returning Thursday. Well not Cody. He didn't bother to attend.
Update 2: Christmas departed for her surgery at 10:30 AM BBT on Wednesday. She hopes to be back Thursday before the eviction show.