Meet the Big Brother 19 Houseguests here with our cast review complete with bios and pics of this season's sixteen All-New HGs. That's right, all happy, new faces are about to great you and keep us company this summer for BB19 starting Wednesday, June 28th on CBS! Not a Vet in sight here.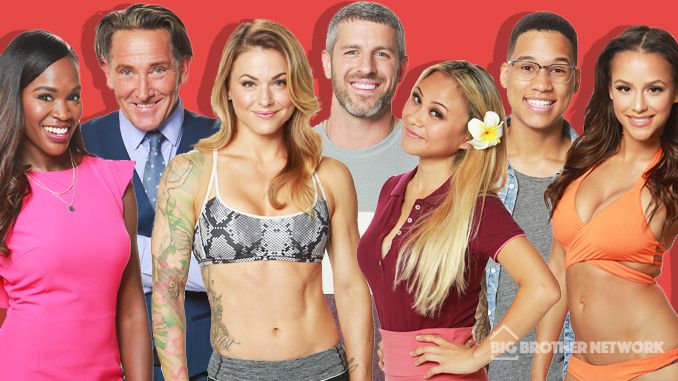 With 16 new faces there's no room for retreads. That's got me thrilled and apparently a lot of you are going to be happy about that too. So who do we have? It's everything you've come to expect from a Big Brother cast, but I'm seriously optimistic with this bunch after reading their bios and trying to get an idea of who they'll be in the game.
Ages range from 21 to 55 with an average age of 29.6 years so we've got a relatively more mature group of HGs for Big Brother this season. I like it. Sure, we've got all the young, hot studs and babes, but we've also got a nice stock of 30+ players in there to help balance the mindset. Age alone doesn't give us a great season though. We need great players with a mind to make the drama and entertainment for us as we bang on the glass to make them dance. Nearly time to find out whether or not they'll deliver.
Here we've got a Rodeo Clown, a "Fitness Superstar" and national bestseller, oh yes a VIP Concierge, and more than one Houseguest that looks up to James Huling. While some of the bios give off that "I'm a brand new superfan" it also seems like we've got some serious fans in the mix for BB19.
Read on for this year's cast of Houseguests and then get ready for them to get the game going ahead of the Big Brother 19 premiere on Wednesday, June 28th at 8/7c on CBS! Watch the HG interviews on All Access & get your Live Feeds too with the Free Trial. All interviews are now available on-demand!


Try Live Feeds 1 Week Free! Only $5.99 per month thereafter. Sign-up now.
Cast interviews started at 11AM ET (8AM PT) but are also available on-demand. Start watching now!
Big Brother 19 Cast: Houseguest Bios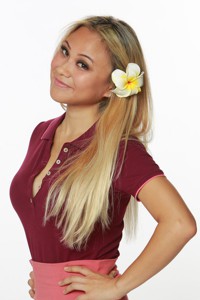 Alex Ow (28)
Hometown: Thousand Oaks, Calif.
Current City: Camarillo, Calif.
Occupation: Eco-Friendly Marketing Rep
Three Adjectives: Center of attention, hyper and adorable 
Favorite Activities: I love knitting, crocheting, baking, going to the gym, going out with friends, hanging out with my family, watching Netflix, hiking, dating and pretty much anything being lazy. My spirit animal is a sloth lol.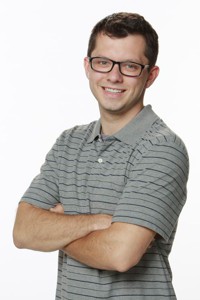 Cameron Heard (24)
Hometown: North Aurora, Ill.
Current City: Woodridge, Ill.
Occupation: Microbiologist
Three Adjectives: Persistent, driven and smart
Favorite Activities: Ride my bike, solve Rubik's cubes, play some online chess, snowboard and scuba dive. I want to try mountain biking sometime in the near future as well.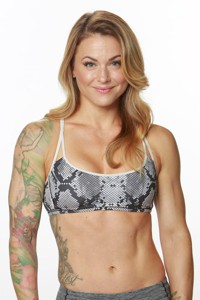 Christmas Abbott (35)
Hometown: Lynchburg, VA
Current City: Raleigh, NC
Occupation: Fitness Superstar
Three Adjectives:  Committed, happy and influential
Favorite Activities: Working out or playing a sport, cooking and working.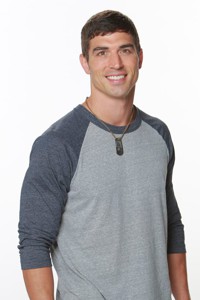 Cody Nickson (32)
Hometown: Lake Mills, IA
Current City: Plano, TX
Occupation: Construction Sales Rep
Three Adjectives: Confident, charming and sweet
Favorite Activities: Surfing is my number one activity. I enjoy riding my motorcycle too.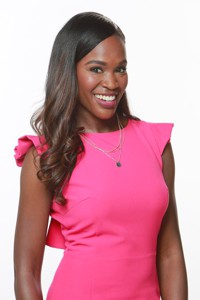 Dominique Cooper (30)
Hometown: Tuskegee, AL
Current City: Woodbridge, VA
Occupation: Government Engineer
Three Adjectives:  Uber-optimistic, energetic and determined
Favorite Activities: My favorite activities are eating and trying out different restaurants, attending happy hours, running, creative writing, speaking and reading as many books as my attention span will allow.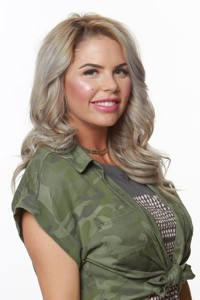 Elena Davies (26)
Hometown: Fort Worth, TX
Current City: Dallas, TX
Occupation: Radio Personality
Three Adjectives: Funny, abrasive and charming
Favorite Activities: Instagram, listening to live music, napping, tail-gating and shaking my booty.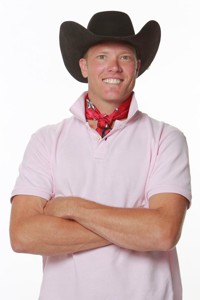 Jason Dent (37)
Hometown: Humeston, IA
Current City: Humeston, IA
Occupation: Rodeo Clown
Three Adjectives: Charismatic, ambitious and athletic
Favorite Activities: Rodeo
Jessica Graf (26)
Hometown: Cranston, RI
Current City: Los Angeles, CA
Occupation: VIP Concierge
Three Adjectives: Honest, loud and loyal
Favorite Activities: Going out to eat long meals with great people.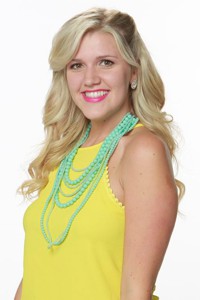 Jillian Parker (24)
Hometown: Celebration, FL
Current City: Las Vegas, NV
Occupation: Timeshare Sales Rep
Three Adjectives: Bubbly, funny and truthful
Favorite Activities: Currently, I love to go to this place called the Glowzone by my house, full of rock climbing, ropes courses and an American Ninja Warrior course.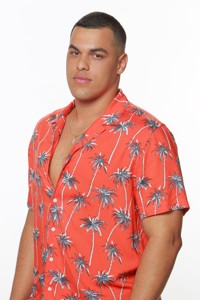 Josh Martinez (23)
Hometown: Miami, FL
Current City: Homestead, FL
Occupation: Hair Care Sales
Three Adjectives: Ambitious, courageous and passionate
Favorite Activities: I enjoy playing sports, going to the gym, reading, hiking, traveling, meeting new people, being an adrenaline junkie and having new experiences.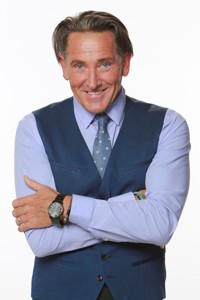 Kevin Schlehuber (55)
Hometown: Boston, MA
Current City: Boston, MA
Occupation: Stay-at-home dad
Three Adjectives: Caring, humorous and charismatic
Favorite Activities: Hanging out with my family, watching movies, going to the beach, exercising and playing pool or darts with the kids.
Mark Jansen (25)
Hometown: Grand Island, NY
Current City: Grand Island, NY
Occupation: Personal Trainer
Three Adjectives: Fun, strong and thoughtful
Favorite Activities: Lifting weights, hiking, watching movies and relaxing on a beach.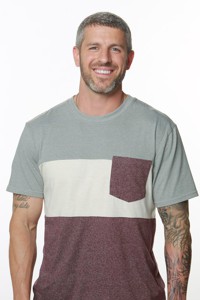 Matthew Clines (33)
Hometown: Arlington, VA
Current City: Arlington, VA
Occupation: Renovation Consultant
Three Adjectives:  Fun, competitive and silly
Favorite Activities:  Watching panda videos or really any funny animal videos (I like animals), eating, sleeping and lifting weights.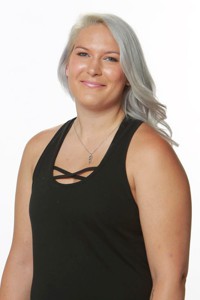 Megan Lowder (28)
Hometown: Cathedral City, CA
Current City: Phoenix, AZ
Occupation: Dog Walker
Three Adjectives:  Cunning, smart and beautiful because I'm confident like that.
Favorite Activities: I play a lot of video games. I know this is not a dating site so I don't think I need to make up a bunch of crap about how I LOVE hiking. I am currently working on my racing license so I can do rally cross.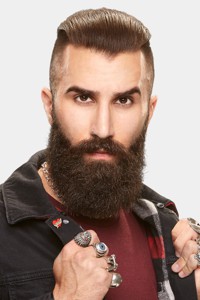 Paul Abrahamian (24)
Hometown: Tarzana, CA
Current City: Tarzana, CA
Occupation: Clothing Designer
Three Adjectives: Honest, spontaneous and energetic.
Favorite Activities: I love to play music so a jam session is always good. I love going to shows and concerts for the crowd surfing, mosh pits, stage diving, all the fun stuff.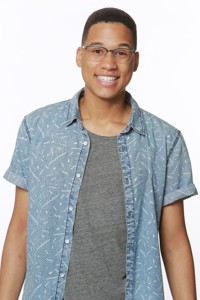 Ramses Soto (21)
Hometown: Grand Rapids, MI
Current City: Grand Rapids, MI
Occupation: Cosplay Artist
Three Adjectives: Friendly, quirky and energetic
Favorite Activities: I am very creative and love to do art. That's why I love to do cosplay. I love to read comics. I like to do face masks and drink wine while watching Netflix or Big Brother.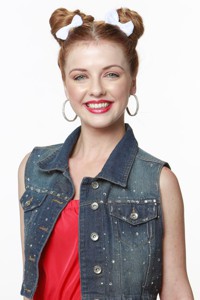 Raven Walton (23)
Hometown: DeValls Bluff, AR
Current City: DeValls Bluff, AR
Occupation: Dance Teacher
Three Adjectives: Quirky, bubbly, and outgoing
Favorite Activities: Road tripping with my best friends! I enjoy reading a good book in a coffee shop. I always look forward to dance competition season! I also LOVE fashion! Shopping is what I am best at! I literally dance everywhere I go! There is never a dull moment with me.
Big Brother Cast Interviews:
You've read the Houseguests' bios, but now it's time to meet them in action with the Live Feeds Interviews only on All Access starting today at 8AM PT (11AM ET) and available on-demand as well.
Sign-up now for the Free Trial to get a free week & support our site by using our banners and links. Thank you for your support! We greatly appreciate it.


Try 1 Week Free! Only $5.99 per month thereafter. Sign-up now.
Download our Big Brother App, join us on Facebook & Twitter, and get our Email Updates for more!