We're close to finding out who will win Big Brother 18 when the Jurors cast their nine votes tonight and the confetti falls on this season's winner, but who of our Final 3 will be that lucky Houseguest? And what of the Favorite HG prize? Read on for my predictions.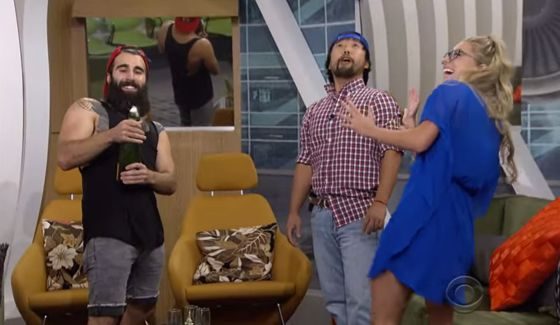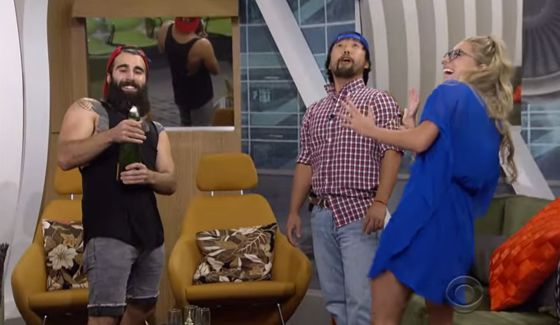 James Huling, Nicole Franzel, and Paul Abrahamian are all that remain of the original BB18 cast that moved in late June and now more than three months later it's time for one of them to be crowned the winner. Nine Jury votes are out there and a few bitter Jurors could be along for the ride.
A week ago I thought for sure we'd have Nicole taking James, Paul taking Nicole, and James staring blankly in to space. After a few twists and turns that gave us a possibility that Nicole was going to take Paul we're now back to the original most likely scenarios. Of course a threat delivered last night may have changed that up for Nicole.
When Round 3 arrives it'll be Nicole versus Paul, that's already been established. So who can pull off the win here? I'm still giving the edge to Paul. His social game was strong and he spent a lot of time working the house. Nicole, on the other hand, has admitted she avoided creating social relationships and spent most of her time in bed with the purpose of avoiding potential for backstabs against her. Since this round relies on HG knowledge plus luck I'm going to nudge it closer to Paul.
If Paul wins he'll take Nicole. If Nicole wins, she may now be taking James. I remain somewhat uncertain because although this appears to have been her plan for awhile she didn't anticipate Paul saying she'd lose his vote if she blindsides him which is exactly what she was planning to do.
This goes to terrible Jury management on Nicole's part. I started to buy in to her F2 promises to Paul because it made no sense to sink herself neck deep in to this F2 deal with Paul only to yank the carpet out. I thought that'd be such a bad idea that she isn't foolish enough to try that. Yeah, turns out she is. And now since she thinks she needs Paul & Victor's votes to beat James she may be forced back in to her promise to keep Paul. Overall I'll be more surprised if she ends up taking Paul than James though.
So let's look at the two most likely F2 scenarios. Paul vs Nicole and James vs Nicole. I don't see Paul vs James happening unless Nicole does warn Paul in advance and he decides to return the favor by taking James instead. But if Paul truly believes his best chance is against Nicole then he'll stick to that plan even if he's upset at her.
Paul Vs Nicole:
The newbie versus the Vet, a situation Nicole said she wanted to avoid, but if we're here then I'm assuming Paul won R3. Now about about those votes?
Da'Vonne: Paul
Zakiyah: Nicole
Bridgette: Paul
Paulie: Nicole
Michelle: Paul
Natalie: ?
Victor: Paul
Corey: Nicole
James: Nicole
Day left under Paul's watch, but they are still former teammates and although Day was willing to consider Nicole for the win I think she'll be glad for Paul to give her the chance to vote otherwise. Zakiyah credited Paul as playing a good social game in our interview when she left, but I think she'll follow Paulie's lead and he'll be voting for Nicole. Although, maybe Paulie will be looking to Bro it up with a guys vote but I still expect him to vote for the Calafiore family friend, Nicole.
Bridgette gave Paul credit for the best game when she was leaving and says she would have teamed up with him if she could. Considering Nicole's flip on Frank I think Bridgette will stick with liking Paul's game. Michelle voting for "Snakole?" Won't happen. Give that one to Paul too.
Victor is obviously going for Paul just as Corey will vote for Nicole to win. James should vote for Nicole too even though she betrayed him a few times and if he leaves it'll be at Paul's hands tonight with James never knowing that Nicole planned on taking him but had been lying.
So the wildcard here for me is Natalie. Somewhat. She was very upset with Nicole when she left but in her exit interview she said Nicole was playing the best game. If she sticks with that then her vote could go to Nicole over Paul for the win. Her original plans for "girl power" no matter what was discarded a few weeks ago so it's not impossible for her to end up voting for a guy.
An even bigger wildcard in all this though is the Jury discovering who is still there at the end. I think the Jury will recognize Paul had a much harder road to get to the end than Nicole did as she stayed away from the game as much as possible, this by Nicole's own admission. Most former HGs will advise new players to lay low for the first couple of weeks. Nicole laid low for the first couple of months and got up around Week 9 to start playing. It worked to get her to the end, but can it work to get her the win?
I'll say no and predict this match up will end with Paul winning Big Brother 18. But what about against James? Read on to the next page…