We are getting down to the wire on Big Brother 18 and we've got some last minute drama as Nicole Franzel scrambles to decide her path ahead in hopes of reaching F2 and winning Big Brother. Last night we heard her whisper a new plan to take James over her deal with Paul, but now Paul has let her know the consequences if she does make that move against him.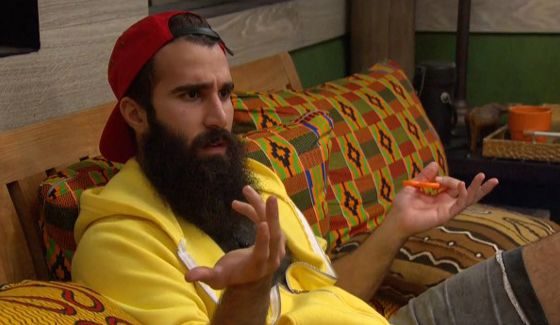 For days now it looked like Nicole was going to make a potentially bad choice and take Paul over James if she won R3 during tonight's Final HoH competition. She's been promising Paul up and down they're together til the end while warning James she wouldn't take him. But will a last minute flip on that decision hurt her even more than taking Paul?
We've already fully detailed out Nicole's overnight talks where she revealed in whispers her true plan appears to be for her to cut Paul after Round 3 if she has the chance and head on to the end with James. Nicole has avoided letting James know to keep him unprepared and she thinks she has a better shot at winning against James though believes she'll need Paul's and Victor's votes to make sure she does. That may actually be in jeopardy if she makes the move she's been detailing.
Paul and Nicole have been on endless loops for days now as both promises the other they're going to take each other to the end. In Nicole's whispering she said she doesn't think that is Paul's real plan, but I do think it is. She's using this to free up potential guilt from flipping on yet another Final deal.
When Paul and Nicole sat down again last night for another round of assurances Paul made it clear to Nicole that any last minute reveal of decisions to cut him in favor of James could be very bad for her chances.
Flashback to 9:23 PM BBT 9/20 Cams 3/4 on your Live Feeds (get the Free Trial now).
Paul is telling Nicole he had been getting worried that maybe she'd ditch their deal and Nicole says she has the same worry. Paul jokingly offers to make a blood pact and shake on it to show how committed he is to their arrangement.
Nicole, referencing the chance of Paul taking James instead, says, "it is what it is. It's a game. It's a game so…" but Paul cuts her off. "No, at that point [if she cut Paul] I'd be like f**k you."
Nicole continues, "I'm going to let you do whatever's best for your game." "That's not what I'm doing. Don't even say that because that's not what I'm doing," says Paul. Red flag, Paul. GIANT red flag here. Paul continues:
"At that point, right now, I'd be very hurt. I personally would be very hurt by that move. I'd be like, I don't respect that. If you told me before, just let me know, that's different. Then you gave me a fighting chance in the end. But if you just straight up screw me over like that you would probably never hear from me again in my life. Out of straight up just you are not a respectable player in my opinion.

Because at that point, what benefit do you have stringing someone along then telling them 'f**k off'. That's the way I look at it too. If I did that, you'd be like 'f**k you.' I would deserve a 'f**k you' from everybody. I don't make empty promises to people. What gain? What benefit? No benefit other than pissing you off. Correct?"
Nicole has been mostly silently listening with a few "uh huh" responses. She grimaces a bit at the end when he asks her to agree that there's no benefit to such a blatant betrayal after repeated commitments between them.
Their talk continues on the next page…