Ready to find out who was voted off Big Brother 18 last night and what happened with the potential Round Trip ticket? It was a busy night on Thursday as Da'Vonne Rogers and Bridgette Dunning faced off for the votes to stay in the game.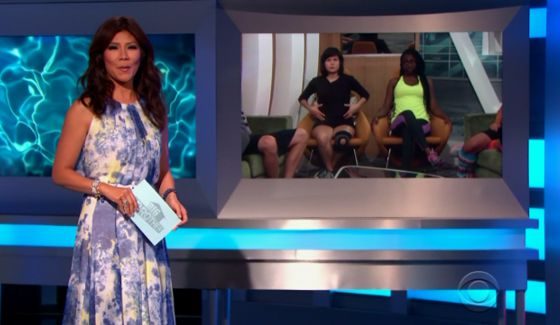 Da'Vonne was caught off guard by her allies turning on her and now it looks like Bridgette could survive to fight another week, but with the power building on one side of the house will there be anyway to overcome the mounting odds no matter who stays?
Ready to find out who was voted out and who takes control next? Here is our live recap for Thursday with the latest BB18 results. You can download our Big Brother App, find us on Facebook & Twitter, and get our Email Updates so you never miss anymore Big Brother spoilers all summer.
Julie makes a big announcement: Jury is here! All the current Houseguests have made the cutoff for Jury so no one else will be going home but rather off to Jury, unless they've got that Round Trip ticket of course!
First up we've got the vote but remember that even when one of these nominees is voted out her game might not be over. We've got to wait and see if Julie Chen reveals a Round Trip or One Way ticket inside the next evictee's Big Brother Airlines envelope. Being sent right back inside the game could present a big shock to the house and change the course of the game.
Big Brother 18 Week 6 Votes:
Paulie votes to evict: Da'Vonne
Zakiyah votes to evict: Bridgette
Nicole votes to evict: Da'Vonne
Michelle votes to evict: Bridgette
Victor votes to evict: Da'Vonne
Corey votes to evict: Da'Vonne
James votes to evict: Da'Vonne
That's enough votes.
Natalie votes to evict: Da'Vonne
By a vote of 6-2, Da'Vonne Rogers has been evicted from the Big Brother house.
Big Brother 18 – Week 6's Trip Ticket:
Julie reveals this week's ticket is… One Way. Da'Vonne is done.
Time to crown a new Head of Household with a week's safety and the power to name two nominees. We've got an endurance competition coming up, but will we get to watch it on the Live Feeds? Let's hope so!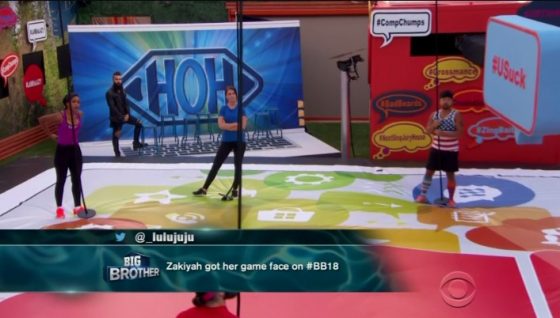 Houseguests must hang on as their are spun around. You've seen this comp every season. So who will last the longest? First 3 to drop will be next week's Have-Nots.
Big Brother 18 Week 7 HoH comp – Harsh Hashtags:
Julie reveals next Thursday will be our first Double Eviction of the season! Get ready.
Don't like how this week's comp turned out? Then be sure to keep voting in the America's Care Package for the second round. This week's power will be the chance to nullify two of the upcoming votes for Week 7. That could be enough to sway the game and change the target.
Lots of big events coming up this weekend with the nominations and Veto comp so before to check back in with us over the next few days for more spoilers as we go.
When tonight's episode ends we'll be racing back to the Big Brother Feeds to watch the rest of tonight's HoH comp! Join us on there with the Live Feeds' Free Trial & see what the fun is all about.