We've got our first Head of Household endurance competition on the Live Feeds! We just saw Da'Vonne Rogers evicted from Big Brother 18, now are you ready to find out who will be the new HoH after hanging on the longest in this week's comp?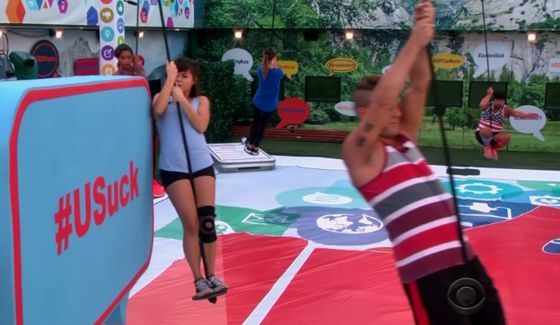 We've got everyone but Paul up for the challenge and they'll be hanging on while being spun around in a circle. You know this comp. This time around the HGs are getting hit by "Harsh Hashtags" to make them spin and fall down.
So who did win the Big Brother HoH comp tonight?


Big Brother 18 – Week 7 endurance results:
7:02 PM BBT – Feeds are back! James & Bridgette are already out. Sheesh.
7:09 PM BBT – Corey is out! He's the 3rd Have-Not of the week.
7:15 PM BBT – Michelle, Natalie, Paulie, Nicole, Zakiyah, & Victor remain
7:17 PM BBT – Michelle starts puking. Falls off. Continues to puke in a bucket.
7:20 PM BBT – Michelle is sitting on the sidelines crying about falling, about her puke, about who has to clean up her puke.
7:27 PM BBT – The "Trolls" arrive to hit Michelle now that she's stopped puking and crying.
7:30 PM BBT – We've still got Natalie, Zakiyah, Nicole, Paulie, & Victor in the comp.
7:35 PM BBT – Both Natalie and Nicole are saying they're close to vomiting.
7:41 PM BBT – Nicole fell! She almost landed in the puke too.
7:45 PM BBT – Zakiyah looks good. Natalie has mentioned vomiting. Victor is somewhat quiet. Paulie is over the top boasting.


7:50 PM BBT – Zakiyah asks Natalie how she feels. Natalie says not good.
7:54 PM BBT – Zakiyah falls!
7:55 PM BBT – Paulie is out too! Only Natalie and Victor remain.
7:56 PM BBT – Natalie peed herself. She isn't dropping for a potty break.
8:00 PM BBT – Natalie pleading with Victor, but he won't drop.
8:05 PM BBT – Victor gave the thumbs up when Paul asked how he was doing. Natalie regains her footing.
8:10 PM BBT – Natalie still pleading with Victor to give it to her. He says not but promises they won't put each other up. Natalie says "okay, cool."
8:15 PM BBT – Natalie has been telling the peanut gallery that she doesn't know if she can keep going, but she's hanging on. Victor is quiet.
8:20 PM BBT – Both are holding on strong.
8:25 PM BBT – Victor looks very solid, but he's being quiet. Natalie continues to make comments but she's hanging in there.
8:27 PM BBT – Natalie asks for confirmation that Victor won't put her up… then says she'll hang on a bit longer.
8:35 PM BBT – Natalie wonders if she'll get glitter in her HoH basket. That doesn't sound like someone giving up to me!
8:37 PM BBT – Natalie says "this is the most pain I've ever been in!" Lots of "owwww" comments from her.


8:40 PM BBT – Natalie is whimpering. Says she can't do it anymore.
8:45 PM BBT – Natalie has resumed begging Victor to let her win. Then she switches back to saying she'll drop but doesn't.
8:50 PM BBT – Natalie is down! She got a promise of safety then finally gave up and dropped. Victor is the new HoH!
Congrats to Victor Arroyo, the new Head of Household.
What do you think of these results? Jump on the Feeds right now to see what happens next!
Nominations are coming up on Friday already so get ready for those spoilers soon then Power of Veto comp will be held on Saturday. It'll be a very busy weekend! Download our Big Brother App then join us on Facebook & Twitter for the updates.