We discovered who was voted out last on Big Brother 18 as Jozea and Paulie faced off for the votes while Bridgette sat idly by and waited for this battle to end. It ended up a great night for the show and it's only the first week of Big Brother!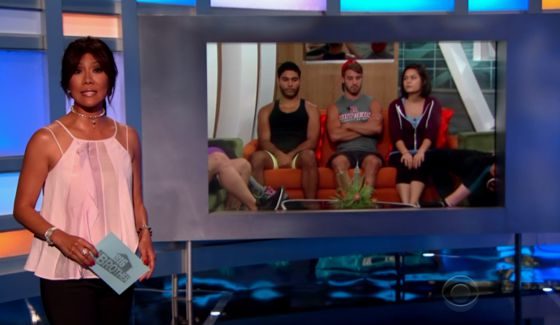 Hard to believe we're getting this much fun this early but that also means we're about to lose a solid provider of Feeds fodder so there's an up and down here to this week's Big Brother results for the eviction. A lot will also depend on who wins Head of Household and readies us for the next round of nominations, the BB Roadkill, and even the Veto competition this weekend. Buckle up!
Ready to find out who gets voted out and who takes control next? Stick with us for our live recap right now for the latest BB18 results. You can download our Big Brother App, find us on Facebook & Twitter, and get our Email Updates so you never miss anymore Big Brother spoilers all summer.
Julie Chen just confirmed what I've been telling you for awhile: the first evictees have a shot at returning to the game! She said Glenn and tonight's evicted HG's games are "far from over." Yep, the first five evictees will have a chance to get back in to the game with the "Battle Back" twist this season.
Big Brother 18 Week 1 Votes:
Victor votes to evict: Paulie
Zakiyah votes to evict: Jozea
Paul votes to evict: Paulie
Frank votes to evict: Jozea
Da'Vonne votes to evict: Jozea
Michelle votes to evict: Jozea
Bronte votes to evict: Paulie
Natalie votes to evict: Paulie
James votes to evict: Jozea
Tiffany votes to evict: Jozea
That's enough. Jozea is evicted.
Corey votes to evict: Jozea
Jozea Flores has been evicted from Big Brother 18.
We were expecting a 7-4 eviction with Jozea heading out the door and that should be a blindside for at least Jozea and his two closest allies, and sure enough the HGs delivered.
Julie reveals more details about the twist. It's Big Brother "Battle Back" in a Survivor Redemption Island style game. First five evictees will face off each week with the latest evictee competing the previous evictee. The winner remains and the loser goes home. No idea when we'll see that happen.
With no time to waste we need a new HoH to hold the power and set the tone for the week. Let's see if this will be a team competition or not with the team decided who should have the power. Hmm, have they said what happens if no one will agree to who gets HoH? That could be interesting.
Big Brother 18 Week 2 HoH Competition – "Berry Balanced":
HGs are working in their teams and must carry 40 berries across logs. First to finish wins safe for their entire team.
Natalie goes for the faster route and falls. She is out. Once you fall it's over for you. The show ends with one HG out and the rest continuing to compete. We'll have to go to the Feeds for the results.
Feeds are back and we have the results! Find out who won with our HoH spoilers.


Things are going to be awesome on the Feeds after the show. Paul and Victor will be freaking about Jozea's eviction since they were the only ones who didn't have a clue after Frank let it out to Natalie. You'll definitely want to be watching what happens.


When tonight's episode ends we'll be racing back to the Big Brother Feeds to watch tonight's eviction & HoH fallout! Join us on there with the Live Feeds' Free Trial & see what the fuss is all about.