The Feeds may have been down for a few days but the Big Brother 18 game never stopped inside the house and we're cruising through Week 5 with the Veto competition expected later today.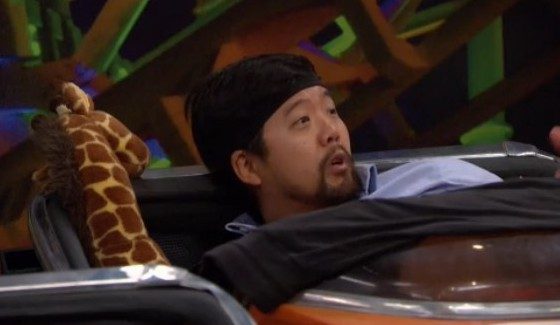 Houseguests were playing hard for the HoH competition and now we've got the week's initial noms up on the Block, but here comes a chance to change it up and force a renom.
Frank is on the Block next to Bridgette and he's the real target this week after James bent to the will of the house only to have them abandon him when it came time to take responsibility. James isn't happy about HGs playing dumb on Frank being the target. I'm wondering if he's having second thoughts after commenting to Natalie last night that Frank would still work with them.
Also potentially in Frank's corner going in to this competition is Paulie who has been advocating for making sure Bridgette left before Frank, but Paul doesn't like that idea and it was showing signs of stress between the two guys. Corey assured Frank he'd use the Veto to save him if he won it, but what else is Corey supposed to say when someone puts you on the spot like that.
As for Bridgette competing for the Veto, Frank advised her to take every chance she has to get the Veto for herself. He does not want her passing on it to try and help him.
Now that we're done with Roadkill we'll be back to three players added to the mix since there is one less nom. Not sure if we'll see the HG Choice buttons again or if it'll be a handpick if they're name is drawn and already in there. I actually like the new way so I hope they keep that.
When it comes to players who will be fighting hard to keep Frank on the Block I think we've got Day, Natalie, and Paul, but the rest might just keep their heads down and not tooth and nail it to secure the power so they're not on the spot to use it at the meeting. Then again, knowing you can't become the renom if you're holding the Veto is mighty tempting.
I can't really think of anyone who would be a champion for either Frank or Bridgette though, so if either of them wants to make sure they come down then they better get to winning today's Veto comp. Natalie might save Bridgette, but she's drifted from her recently so maybe not. Instead the best the noms may hope for is to simply get a draw of players with a weaker record like Natalie, Zakiyah, and Da'Vonne.
Update: Natalie promised Bridgette she'd save her if she won Veto (11:08 AM BBT) and considering Nat's strong stance on keeping promises I think she's being truthful.
We'll be watching for the players pick later this morning and then the Veto comp could be later afternoon or early evening if the heat gets to be too much. Once the comp is over we'll have the results waiting for you. There is a lot of pressure on Frank and he's known to play strong when his back is against the wall.
Download our Big Brother App and we'll send you results via notification as soon as spoilers are in!
Update: Players were picked. Da'Vonne, Nicole, and Michelle were drawn. Natalie will host. Day mentioned that Bridgette drew here name. Ouch, bad draws for Team Frank, huh? Natalie won't be able to help Bridgette like she had hoped. Sounds like they're both on their own here.