Houseguests have been busily planning for the Veto Competition later today and after a contentious night the stakes are high for these Big Brother 18 HGs looking to lock in a target.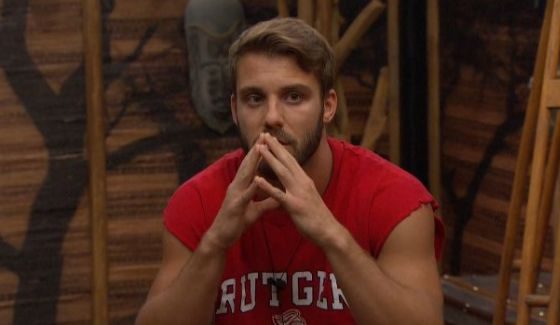 The third nominee for the week was confirmed last night which gives us the first four players in Saturday's PoV comp ahead of the remaining two spots set to be filled by draw later this morning. Everyone is anxious to get to the competition and jockeying for a spot to join in.
Corey was added in to the mix thanks to the Roadkill nom at the hands of Tiffany, this week's RK winner. We're expecting him to pick Nicole if he gets the HG Choice. Should she win then that would protect both from the Block this week.
In a questionable move, Corey told Natalie, one of the other noms, that if he wins the Veto he would use it on her rather than himself. If Corey comes down then Tiffany gets to pick the renom and that could end up being Nicole, but if Natalie comes down then the renom choice goes to Paulie.
If that sounds like a Marcellas-style decision then you'd be right. Just as we saw with the too-tempting alternative of Bronte last week it'd be far too risky for Corey to leave himself up there come Thursday night. Corey saw that too and later suggested he was just kidding when he promised that move to Natalie.
Tiffany will likely be picking Frank and I do believe he'd use it on her if she won. His ally Bridgette isn't at risk so there's little reason for him not to mess with the noms this round and having Tiffany off the Block would give them another vote on Thursday.
Offsetting the gain of a Tiffany vote could end up being Da'Vonne going on the Block in her place. Paulie has said that'd be his move as several of his allies are growing concerned that Day may not be solidly with them at this point.
Natalie would for sure pick James to compete for her and he'd definitely use the Veto on her if he wins. She's his last teammate and obviously there's a bit of showmantic interest there helping his motives along. James and Natalie will be watching out for each other.
As for Paulie's pick, Frank mentioned he was trying to stay on good terms with him in case he was still considering Frank for a HG Choice. There's not a chance that'd happen. Maybe Paulie would pick Nicole, Paul, or Zakiyah to play along for him. As far as Paulie's concerned no one stands a chance to defeat him, so everyone should just go sit down.
There was a lot of chest puffing last night from Paulie that he could not be defeated, especially not by Tiffany (who just beat him in the Roadkill comp). It was definitely over the top so he's really set himself up with some high expectations.
Houseguests think this could be the giant rolling dice comp, but they also thought that was the case last week and it wasn't. Paulie led a group session on how to play that comp similar to how Tiffany demonstrated the challenge last week. Might be time to change up the dice comp a bit to keep HGs surprised.
We'll be watching for the players pick later this morning and then the Veto comp could be later afternoon, early evening since they may need to wait for the heat to drop. Once the comp is over we'll have the results waiting for you. Tiffany or an ally needs to pull off the win or she should be in real trouble come Thursday night. Then again, I'm pretty sure I said the same thing last week.
Download our Big Brother App and we'll send you results via notification as soon as spoilers are in!
Update: Players have been picked. Sounds like Da'Vonne and Bridgette Paul are playing. That could be really good for Tiffany's hopes. If Da'Vonne wins and removes Tiffany then she can't be renom'd like Paulie was planning to do. Of course, that's something Day could do, not to say she would.