We may have finally arrived at our Veto meeting day after Sunday came and went without the ceremony being held. Mondays are our typical day for these events, but with today being the Fourth of July it seemed possible there'd be a shift in the Big Brother 18 schedule. That didn't happen.
All the same, Big Brother Houseguests are now expecting the Power of Veto meeting today and the Veto holder will have to announce a choice to change up the game.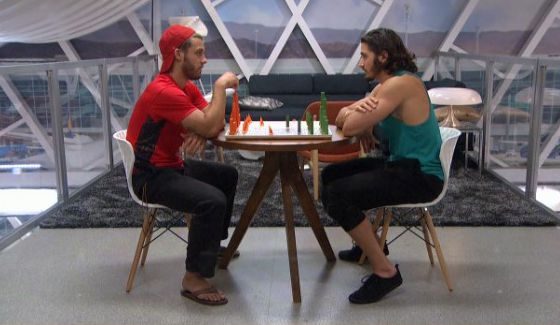 We've got details on what the Veto holder plans to do and what this week's target thinks is actually going on. Hint: these two things do not overlap.
Flashback on your Live Feeds to 10:06 PM BBT 7/3 (get the Free Trial now).
Victor and Paul are outside playing pool. To set the stage, we know that Paul is aware of what's about to go down, but he's playing dumb because he's just glad he's not the active target.
Paul tells Victor that he doesn't trust anyone right now and isn't sure what's going on. Victor says that anything is possible and he could even end up being on the Block. Paul says he'd expect Bronte to come down if anyone does. Again, Paul is lying. Paulie has already promised Paul that he will be coming down and Victor will be going up.
Victor believes Bronte will be staying on the Block because that is who he perceives to be Paulie's target. Paul again counters that he thinks Paulie would rather have him and Victor together on the Block, but Victor says that doesn't make sense since Bronte was talking a lot of trash. Victor says if anyone goes back up it'd be Natalie. Paul asks Victor just how good he feels about this. "I'm pretty f**king sure," says Victor.
Now here's something interesting. Victor hasn't named a renom yet. If Paulie used the Veto on Tiffany then RK winner (Victor this week) would have had to already made this decision so BB could announce the result of the renom during the meeting. Victor says he doesn't even know who he'd name as renom and I doubt he's lying to Paul right here.
Victor is really clueless on this week's upcoming events. He says Paulie won't Veto Victor's nom because that'd just upset him and make Paulie a target for Victor next week if he wins HoH. Yes, Victor has considered the possibility of going up as a renom, but I'd wager it's low on his expectations.
Initially Paulie had planned to tell Victor in advance but he later changed his mind on this and will instead surprise him at the ceremony with this decision.
When Paulie announces at today's Veto meeting that he's taking Paul down and putting up Victor it's going to be a serious shock to Victor. He's not even entertaining this possibility right now. HGs are anticipating Victor won't take it well which he might not at first, but I doubt we're going to see anything explosive. Never know though. I'll definitely be watching the Feeds this afternoon for the potential fallout in case he does though!
What do you think of Paulie's plans? Should he put the medallion back in the box or is this a good move to get Victor out this week?