The Power of Veto competition is coming up later today for the Big Brother 18 Houseguests and with only six players left in the game everyone will be playing and there's no need or purpose in a player pick.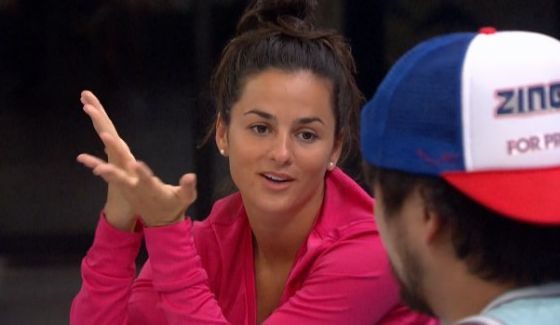 Nominations were set Friday night and now the noms will have a chance to change the HoH's plans with a win but even then we may have some interesting results.
James and Natalie are on the Block with Victor targeting James but Nicole and Corey have plans of their own if they're willing to go against their new found allies in Victor and Paul.
Nicole and Corey want Natalie out and that might be because Nicole thinks she can still salvage some sort of trust with James before she could with Natalie, but I'm not convinced either of James or Natalie will work with that pair again.
As for James and Natalie there's been a back and forth between them on how the Veto would be used if their duo won today. Natalie has said she'd use it on James, something he has discouraged, but then James said he'd use it on Natalie only to later say he might not use it at all.
James correctly assumes they're going to be picked off anyway but I don't see him figuring out how to justify not using it. He's said he's willing to be evicted so Natalie can keep playing but if he doesn't want to use it to save her then deep down he may hope she does go over him. Nothing wrong with that. It's his chance at a half million dollars too but James is so fixated on winning AFP again he doesn't seem to care about the bigger prize.
Paul and Victor want to keep the noms the same and really so do Nicole and Corey. They'll all four be fighting to win today's Veto to avoid any renoms. Paul won't be going near the Block so that means either Nicole or Corey would get that duty and obviously they don't want that.
So if we see Natalie win the Veto I think she would use it and James would convince her to save herself instead of him. If James wins it then I'd hope he'd save himself but he's also mentioned saving Natalie instead or not even using it. Send him home immediately if he does either of those. Should any of the other four win it then the noms stay the same and we move on to discussions among the F4 over which of the two will head to Jury next.
What do you want to happen today in the Big Brother Veto comp? Are you hoping to see either James or Natalie win their way off the Block or would the drama be better for them to both remain on the Block this week? Share your thoughts below.
Download our Big Brother App, join us on Facebook & Twitter, and get our Email Updates for more.