The Big Brother 18 nomination went just as suspected on Friday afternoon and with only six houseguests remaining and a showmance on the block, we probably shouldn't expect a lot of drama but we will be getting a lot of strategizing for the couple of weeks that remain of the season.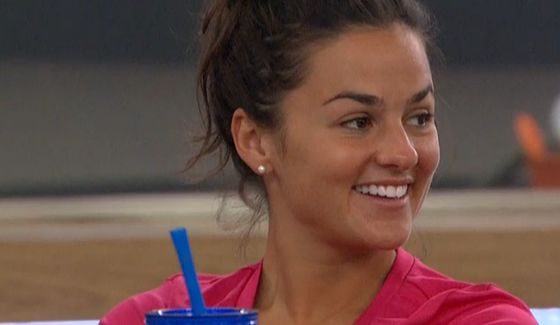 If you've got the Live Feeds (Free Trial) then you can watch all of these moments with the Flashback feature to go back and watch those important conversations or funny scenes you may have missed.
Big Brother 18 Live Feed Highlights – Friday, September 2, 2016:
10:00 AM BBT – HGs get their wake up call, but no one is in a hurry to get up.

10:30 AM BBT – Victor was awake but alone so he goes to wake Nicole and asks her to join him for breakfast.

11:00 AM BBT – Nicole and Victor having some eggs he made for them.

11:30 AM BBT – Paul has joined Victor and they're chatting about how well positioned they are in the game right now. Nicole comes back. Paul jokes with her that they should pair up and go against Victor and Corey.

12:45 PM BBT – Everyone is up and moving around. James tells the group in the kitchen that he expects to go on the Block today. Victor and Nicole are playing dominoes upstairs.

1:10 PM BBT – Natalie and James wonder how things might have worked out if they hadn't flipped on their F4 deal with Victor and Paul. Natalie says she just can't trust Paul. James couldn't believe that Nicole and Corey flipped on them in return since they had been with him since the first day.

1:20 PM BBT – Natalie isn't happy that James trusted Nicole and says she expected something like this when he wouldn't go along with her asking him to keep Victor.

1:25 PM BBT – Natalie wants to see Paul and Victor at the end if they're gone because she doesn't want Nicole or Corey to win.

2:00 PM BBT – James and Natalie talk about the chances of a Reset button this week. James says it's not too likely.

2:40 PM BBT – Natalie asks James if he took the BB Bribe to throw the HoH comp. (His performance was pretty terrible.) James promises her he did not. (Corey gave it to Victor, but they don't know that.)

3:00 PM BBT – F4 group playing dominoes from Victor's HoH basket.

3:15 PM BBT – James says he'll leave with honor this week if he doesn't get the Veto. James will use the Veto on himself and wants Natalie to use it on herself if she wins it.

3:30 PM BBT – Natalie worries about being in the game without James but says she had fun here with him.

3:40 PM BBT – Now James says he'll give Natalie the Veto if he wins it.

4:00 PM BBT – James again rehashes past decisions and says they should have stuck with Victor.

4:05 PM BBT – Natalie wishes they had put up Nicole and Corey during her HoH reign. Coulda-shoulda.

4:15 PM BBT – James tells Natalie she'll be in a good spot next week when each of the pairs want to have her on their side but he recommends she go with Paul and Victor over Corey and Nicole if she can.

4:30 PM BBT – HGs milling around waiting for the noms. Paul is working on homemade lemonade. HGs discussing Michelle's game play.

5:09 PM BBT – Feeds cut for noms.

5:54 PM BBT – Feeds are back. James & Natalie were nominated. Nicole immediately worrying that Victor might change up the noms but Corey promises her they'll be okay and Victor won't do that.

6:00 PM BBT – Natalie apologizes to Victor and Paul over the betrayal and says she sees they had James/Natalie's back.

6:15 PM BBT – Natalie and James are playing dominoes. Natalie tells James she's excited to be on the Block with him. James jokes he's glad she's enjoying it.

6:20 PM BBT – Paul reports back to Victor, Nicole, and Corey what Natalie said about being happy to be on the Block. Paul wishes Victor hadn't called Natalie a pawn in his speech so they could keep her stressed out more. They discuss having Nicole and Corey each tell James and Natalie they one will vote for each of them so they have to come to Paul who will then tell them to pick a number between one and ten.
Feed Highlights continue on the next page…