Natalie and James face a likely split up this week on Big Brother 18 as one of them could be voted out come next Thursday and while James has all but given up we're seeing Natalie prepare to fight to stay in the game and move ahead.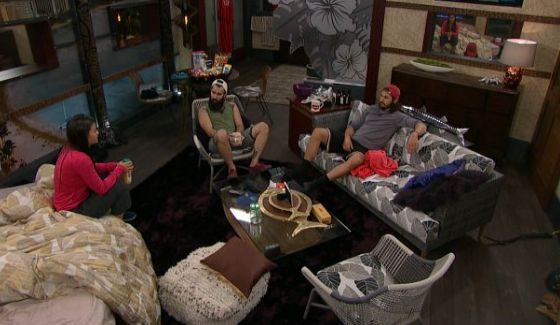 Nominations came in last night to make things official and no one was surprised. Since then we've heard Natalie and James both discuss how they'd handle the Veto situation along with plenty of regret for their recent moves that ended up pitting them against Victor and Paul instead of working with them. Now Natalie looks ready to see if she can position herself for a chance to not immediately follow James out the door.
Flashback on your Live Feeds to 10:01 AM BBT 9/3 (get the Free Trial now).
Natalie has joined Victor and Paul upstairs for a quick talk. She starts off saying that in case this is her last week she wants to apologize. They immediately cut her off that how does she know this is her last week. Remember that both of these guys want James gone.
"I'm sorry I backstabbed you guys," says Natalie. "It's okay, it's a game," replies Paul. "I put my trust in the wrong hands. I really trusted James's and his opinions. I thought you were coming after James. I just wanted to apologize," says Natalie.
The guys thank her for saying that and Paul points out they had a good thing going before she flipped on them. Natalie agrees that they had a strong group going before all that happened. "Sometimes you let the wrong people influence you," says Natalie. Now that's James she's talking about though she also mentioned before getting nudges from DR to pursue a working relationship with Nicole and Corey as well.
Natalie tells the guys that she understands it's all just a game and still wants the best person to win while letting them know she hopes they get far and would earn her vote at the end. Privately Natalie has told James she doesn't want to see Nicole or Corey at the end. Of course tempers may cool in three weeks but if they don't then that's a good sign of which way she'd be voting from Jury if she ends up there.
"You guys have been the underdogs since Day 1," says Natalie while the guys counter that she has been too, in a supportive way. They encourage her to stay positive and Natalie says she's keeping her head in the game and isn't giving up. Victor reiterates that he has his target this week suggesting that she'd be safe if he has his say.
Natalie admits that she's made her mistakes in the game but is ready to move forward from them as she swallows her pride and concedes her mistakes especially against those who were loyal to her. The guys eat it up. This is a good showing by Natalie and I'm glad to see she isn't pulling a Big Meech this week as she's already about five days ahead of her in the campaigning schedule.
Talk shifts to general life things and it's friendly between the group. Eventually Natalie leaves and the guys discuss that having Natalie stick around next week might not be so bad. It's definitely what they wanted already and this sort of talk will keep them firmly rooted in wanting James out. It's a solid move by Natalie. Simple but smart. She might say things to James about not stressing if she goes this week but this tells me she's still planning ahead and wants to play.
The guys definitely noticed her comments about trusting the wrong opinions and they discussed it later as Natalie throwing James under the bus. She certainly received plenty of encouragement from James to go after the guys the other week but it was her decision to get them on the Block as she even influenced Michelle to make that move while Michelle wanted Nicole instead. Just think how differently their game could be going now if Nicole had been voted out that week. Well, she would have probably just come right back in after playing in that Wall comp, right? You never know.
It's also worth noting that James previously advised Natalie to align with Victor and Paul instead of Nicole and Corey if she stays next week which suggests he may try and do the same if he sticks around. Funny thing is if he is here next week then Nicole and Corey pushed to make that happen because they thought James would align with them over the guys. Now that'd be interesting to see play out.
Now Natalie has to fight for that Veto today and see if she can ensure her safety rather than waiting to see which way the house vote goes this week.
What do you think of Natalie's talk here. Was it a simple courtesy or do you see it as positioning herself for a chance to get ahead if she sticks around for next week?