We have your Big Brother spoilers revealing who won Head of Household following this week's eviction episode and cliffhanger on the new HoH results. Ready to find out who won?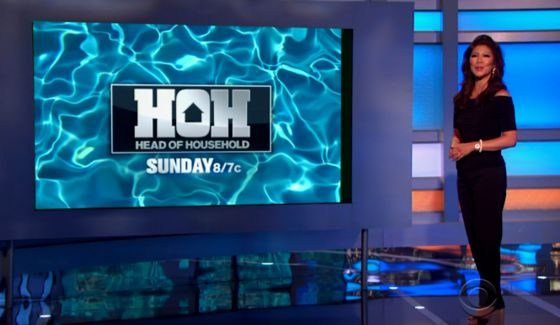 Paulie was just voted out and did not have the magic, golden ticket. That honor went to Paul but they're all expired now so it's time to move on to the Head of Household comp. The eviction show ended without any results but soon the Feeds were cut as HGs headed to the backyard to fight for control. Then we waited. And waited. And waited…
So who did win the Big Brother HoH comp tonight? Read on to find out.
Big Brother 18 – Week 9 HoH winner:
Natalie won Head of Household.
This was some sort of crazy, messy comp. HGs were covered in goop after Feeds were down for 5.5 hours. They all talked about how crazy and awesome it was. Oh we wouldn't know though because yet again we were blocked out due to production's decision to hide this "awesome" comp from us.
Just before the Feeds cut Natalie was telling James they need to flip on Paul and get him nominated after hearing from Nicole that Paul was tossing their names around. Nicole said Paulie warned him that James and Natalie were coming after Nicole and Corey. Natalie didn't appreciate that too much. Of course it was the truth, but someone was running their mouth when they shouldn't.
So now we know Natalie will be calling the shots for the first nominee. If Paul doesn't win ACP then he could end up on the Block and if Natalie has now potentially teamed up with Nicole & Corey then she wouldn't put up either of them though she might only have a deal with Nicole. The Co-HoH will get to pick the second nom though. So we'll have to wait and see!
What do you think of these results? Jump on the Feeds right now to see what happens next!
Nominations are coming up on Friday already so get ready for those spoilers soon then Power of Veto comp will be held on Saturday. It'll be a very busy weekend! Download our Big Brother App then join us on Facebook & Twitter for the updates.