Once Thursday night's eviction show ended the Houseguests were busily preparing to crown a new Head of Household but that wouldn't come until much, much later when the over five hour competition wrapped up and we had the results.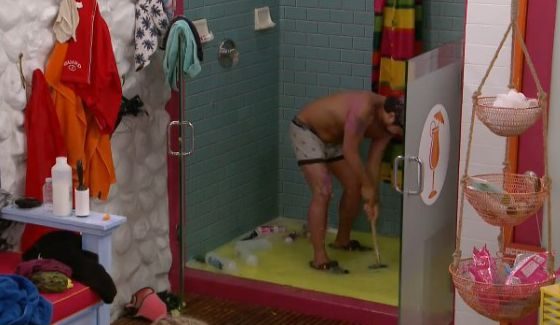 Yes, a new HoH has been crowned and we've got the potential for some interesting drama this week depending on how the nominations turn out as we're approaching another fork in the road.
If you've got the Live Feeds (Free Trial) then you can watch all of these moments with the Flashback feature to go back and watch those important conversations or funny scenes you may have missed.
Big Brother 18 Live Feed Highlights – Thursday, August 18, 2016:
7:08 PM BBT – Feeds return from eviction show.

7:10 PM BBT – Paul talks with Michelle and Natalie in the Storage room. They go over all the crazy things Paulie was telling other HGs. Natalie is stressed over comments Paulie made that she (Natalie) revealed a plan but she denies involvement of his claims. Everyone agrees that Paulie made up things.

7:15 PM BBT – Michelle says she heard Nicole advising James to put Paul and Michelle up against each other if it's a knock-out comp.

7:20 PM BBT – Paul is worried about Nicole and James but Natalie says there's nothing to worry about. Paul says he'd nominate Nicole and Corey together if he gets HoH.

7:25 PM BBT – Paul, Victor, and Natalie all agree that Corey and Nicole are the targets.

7:35 PM BBT – Natalie still promising Paul that James's targets would be Nicole and Corey. Paul says that couple makes him nervous.

7:35 PM BBT – James tells Corey that Paulie was making up things and working the HGs against each other.

7:40 PM BBT – Victor and Michelle are studying days and events.

7:50 PM BBT – James and Natalie worry that Paul might not be trustworthy and was tossing their names around.

7:55 PM BBT – Natalie has decided she's going after Paul and thinks he's playing Paulie's game. James says he doesn't trust Paul either.

8:00 PM BBT – James wonders if they should go to Victor with their concerns about Paul.

8:05 PM BBT – Natalie talks with Nicole about whether Paul can really be trusted. Nicole says she was instructed to go after Victor.

8:10 PM BBT – Nicole and Corey are all too happy to have the target on someone else with it being Paul this time. They agree with Natalie that Paul is risky.

8:15 PM BBT – Nicole talking with Natalie and James that Paul is playing like he's the new Paulie. James says he thinks Paul will throw the comp since he and Victor were just talking that it'd be better to let one of the girls win this one.

8:17 PM BBT – Feeds cut for the HoH comp.

1:50 AM BBT – Feeds return. HGs covered in goop. Natalie is the next HoH.

1:55 AM BBT – HGs trying their best to wash off the goop, but it's not budging.

2:00 AM BBT – Shower is so full of goop that it's backed up. James is plunging it.

2:00 AM BBT – Natalie reveals she won HoH.

2:05 AM BBT – Michelle mentions having the comp advantage and still going out second. (This advantage was one during the carnival game on Monday which airs Friday.)

2:10 AM BBT – Victor told Natalie to prepare for a lot of talk coming her after that win.

2:25 AM BBT – Nicole tells Corey she thinks they're both safe this week and she trusts Natalie after their talk earlier about keeping each other safe.

2:30 AM BBT – Corey is really hoping he'll get the Care Package.

2:55 AM BBT – Nicole again telling Corey they should be safe even though the rest of the house thinks they'll be the two to go up.

3:00 AM BBT – Nicole says Paulie tried to convince they he was just faking being upset about the pie baking but they don't believe him and think he really was upset.

3:05 AM BBT – Nicole says she and Natalie said they'd keep their distance this week so no one knows they're working together.

3:15 AM BBT – Natalie is seriously stressing her outfit and wants to get dressed up for her HoH room reveal and her "speech" where she'll read her letter from home.

3:45 AM BBT – Michelle tells Victor how nice Nicole is being to Natalie. Michelle thinks Natalie will stick to the deal. Victor worries Natalie and James may branch off with Nicole and Corey.

4:00 AM BBT – Victor and Michelle are still awake and hanging out in the kitchen as the rest have gone off to bed.
So no discussions overnight from Natalie as to how she'll handle her nominations as she was much more focused on the critical matters of how to wear her hair and what outfit she needed. Yikes. Let's hope she gets back to game talk soon as she'll need to decide if she's sticking with the F5 deal or going with her new deal of Nicole and Corey. What do you want to see happen?
You can watch all of these Big Brother events using the archives Flashback, the DVR-like feature of this year's Live Feeds which means it's always live, even when you missed it! Sign-up now to get the free trial to watch it all live & uncensored.

click images to see full-size