We've got one eviction prediction down and now it's time for the Double Eviction's second target speculation as we've got some exciting scenarios ahead for tonight's Big Brother 18 live show.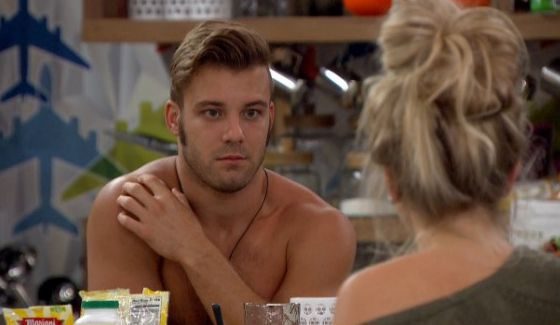 Double Evictions are such a double edged sword for Big Brother as we tend to get so excited for the crazy drama only to have season favorites frequently knocked out in the chaos. That could definitely happen tonight, but I think we can narrow down the scenarios on what to expect based on who takes control in the first HoH comp of the night.
Okay, here we go with the breakdowns for what could happen when the HGs discover it's a Double Eviction show and the wins start rolling in. Paulie doesn't know it but things are about to get a shake up that are going to mess with his prepared plans for seeing a Bridgette and Victor noms pairing. When he is betrayed over Zakiyah going I fully expect him to change things up and go in a new direction. But let's start with the more predictable scenarios.
Reminder: after the first eviction, which will arrive earlier than normal in the show tonight, we'll get a HoH comp followed by noms, Veto, and a second eviction. The Big Brother live show should then cliffhang as the HGs wait for a late night comp to decide next week's HoH. We'll have to get those spoilers off the Live Feeds (get your Free Trial now).
Victor is the outgoing HoH so he won't be up for the position but he's aligned with a new effort that includes Paul, James, Natalie, Bridgette, and we're expecting Michelle to be with them. Should any of those five HGs win HoH then look for Corey and Nicole to go up on the Block. Paulie is the Backdoor target here.
Now you might say there's a danger here of Paulie winning Veto and saving Corey. Well, the opposition is ready for that and are prepared to accept Nicole going as a substitute for Paulie's departure. It'd still strike against their numbers though they definitely want the stronger target of Paulie gone.
Just a bit ago on the Live Feeds as Nicole and Zakiyah prepared for the show Z was telling Nicole that she thinks she's going. Zakiyah reveals Natalie took back a skirt she was going to borrow and wear tonight. She remembers Natalie had said she'd take back items that belonged to her if she knew someone was going. Nicole is less confident this flip is happening as she's heard nothing of it (intentional) but she admits if that happens then they're coming after Paulie, her (Nicole), and Corey. True.
So what happens if those three (Paulie, Nicole, or Corey) win HoH? Hmm. I think Paulie would push for Bridgette and Natalie to go up and possibly Natalie as their preferred target. The previous plan was Victor and Bridgette but Natalie moved up on Paulie's list the past day with her reveal to Zakiyah of things Paulie has said and done.
There's also the secrecy approach the opposition is taking to hide who did the voting. James is going to cancel Paul and Corey's votes then James will say he voted against Michelle to suggest Nicole went against Zakiyah. There could be enough confusion in the moment to help the guys slide past the chaos of the DE.
I don't think there will be enough confusion though to trick Paulie in to nominating and targeting Nicole from this switch-a-roo on the votes, but it'd certainly be a surprise if they somehow pull off getting Paulie or Corey to target Nicole. That just seems very unlikely.
It's much more straight forward if one of the first five win. Nicole and Corey with Paulie as Plan A and Nicole as Plan B. If the trio wins HoH then I think we'll see two girls go up but the control of the eviction goes back to the opposition where they'll have four of the six votes and can decide which of their two allies heads out the door.
Who do you hope to see win HoH in the Double Eviction and who is your top pick to be evicted? Share your thoughts below!