After watching Natalie Negrotti walk out the door of Big Brother 18 it was time to move on to setting the pace for the new week with a new HG in charge. Now we've got your spoiler results from the latest endurance HoH competition shown live on your Feeds.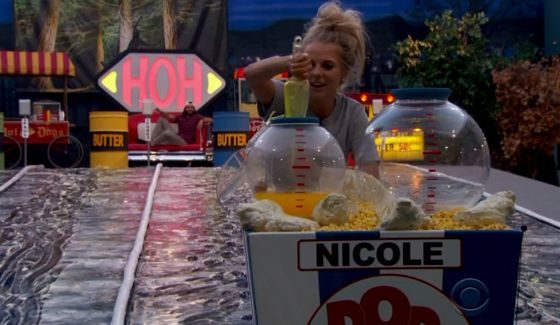 Only five Houseguests remain but only four could compete as Victor watched from the sidelines. So who did win the Big Brother HoH comp tonight? Read on for the spoilers & results.

I'll be updating tonight's Big Brother 18 competition events through our Twitter stream since we can get more frequent updates and pictures uploaded during the high server loads of this endurance battle. Please DO NOT refresh your page, the Twitter stream below will do that automatically.
Want to watch with us? Get the 1-Month Free Trial of Live Feeds with promo code FALLACCESS!
HoH Endurance Comp Results – Week 12
6:50 PM BBT – HoH comp starts on live show.
7:03 PM BBT – Feeds return & comp is rolling.
7:04 PM BBT – James announces he needs a water break already.
7:08 PM BBT – Paul repeatedly wipes out on the slip & slide.
7:10 PM BBT – Nicole is half-way filled up on the small bucket.
click images to see full-size views
7:11 PM BBT – Paul is little under half way filled on small bucket.
7:15 PM BBT – James is crawling now. All the way back.
7:20 PM BBT – Paul is now crawling too.
7:21 PM BBT – Corey is nearly half way on the big bucket.
7:26 PM BBT – Nicole is trying to grab the small bucket ball.
7:30 PM BBT – Nicole finally got the big scoop & has to start over on the big bucket.
7:31 PM BBT – Paul's small bucket is only about half way. He's mostly crawling.
7:35 PM BBT – Corey is a little past half way.
7:40 PM BBT – Paul's new strategy: fill the scoop, sit, & slide back to bucket.
7:45 PM BBT – Corey is about 2/3 full. Nicole is at 1/3 full.
7:50 PM BBT – Nicole keeps making big wipe outs. Finally she can't get back up, then does.
7:52 PM BBT – Paul is digging furiously to get that small bucket ball but no luck.
8:00 PM BBT – Paul keeps trying to get that little ball but can't.
8:04 PM BBT – Corey is just about full. Very close.
8:05 PM BBT – Paul sees it's a lost cause. Asks Victor for a hot dog.
8:06 PM BBT – Nicole tells Corey she's catching up.
8:07 PM BBT – Too late for Nicole. Corey grabs the ball. He's the new HoH.
Corey Brooks is the new Head of Household.
His deal with the F4 was to go after James next, but I wouldn't bet on it. His latest talks with Nicole revealed they were ready to flip on Victor and Paul to go to the F3 with James. Get ready for it.

What do you think of these results? Jump on the Feeds right now to see what happens next!
Nominations are coming up on Friday already so get ready for those spoilers soon then Power of Veto comp will be held on Saturday. It'll be a very busy weekend! Download our Big Brother App then join us on Facebook & Twitter for the updates.