We have your results for who was voted off Big Brother 18 last night and what happened with endurance HoH competition that could decide our season's Final Four HGs following the split of James and Natalie.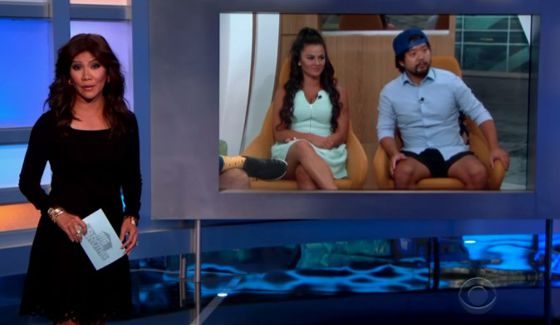 Would the surviving half of Jatalie be hot for revenge in the next HoH comp or did Paul and Victor's plan to keep them in the dark play out with their desired effect of a befuddled competitor in the upcoming endurance battle? Oh yeah, it's time for another Feeds HoH comp.
Ready to find out who was voted out and who takes control next? Here is our live recap for Thursday with the latest BB18 results. You can download our Big Brother App, find us on Facebook & Twitter, and get our Email Updates so you never miss anymore Big Brother spoilers all summer.
Alert: New season of Big Brother starts Sept 28th! Seriously! Details on Big Brother Over The Top.
First up we've got the vote and James should be ready to skate through this one with Natalie taking all the votes, but let's see if that's how it turns out.
Big Brother 18 Week 11 Votes:
Paul votes to evict: Natalie
Nicole votes to evict: Natalie
That's enough votes.
Corey votes to evict: Natalie
By a vote of 3-0, Natalie Negrotti has been evicted from Big Brother 18.
CBS says we've got an endurance competition coming up tonight and spoilers say that's going to be the slip & slide challenge which means we'll be watching it play out online. Make sure you've got your Live Feeds ready to go because this one could decide which half of the F4 "alliance" gets split up.
Use promo code FALLACCESS for 1-Free Month of Live Feeds, All Access, & the new BBOTT season.

Big Brother 18 Week 12 HoH comp:
Big schedule news as we detailed earlier. Next week shows are on Sunday, Tuesday, and Wednesday all at 8/7c. Sunday will be the HoH comp & nominations. Tuesday will be Veto comp & sudden eviction. Wednesday will be a second eviction in a Fast Forward week. No Thursday show next week.
When tonight's episode ends we'll be racing back to the Big Brother Feeds to watch the HoH comp fallout! Join us on there with the Live Feeds' Free Trial & see what the fun is all about.