Final 6 were revealed Thursday night for Big Brother 18 after we saw Michelle voted out during a tiebreaker event, the first of the season. Now we've got your spoiler results on who won the next HoH competition.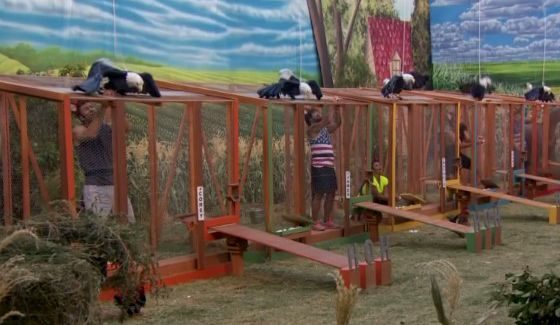 There are three couples left in the game and James & Natalie have just realized they've been outmaneuvered by their former allies in both pairs. No time to dwell on the past though since a win in this week's HoH competition will secure their pair a ride on to the Big Brother F5.
So who did win the Big Brother HoH comp tonight? Read on for the spoilers & results.


HGs have to work eggs across a mesh fence then roll them down a ramp to knock over H O H letters. Have-Nots is back again and the first three to get an egg to the Have basket will avoid that status this week.
Big Brother 18 Week 11 HoH comp:
7:00 PM BBT – Waiting on the Feeds to return…
7:40 PM BBT – Feeds finally start up for the comp
7:42 PM BBT – All HGs but James have knocked down one of the 3 letters
7:47 PM BBT – Corey targets his second letter but the egg bumps in to the letter & goes nowhere
7:50 PM BBT – HGs are missing over and over after taking forever to get the egg to the ramp
7:54 PM BBT – Corey gets his second letter and has the lead
7:55 PM BBT – We hear that Corey also got an egg in to the Have basket
8:00 PM BBT – Victor knocks over his second letter and ties Corey
8:01 PM BBT – Natalie gets her second letter. Paul only has 1. James has 0.
8:11 PM BBT – Natalie broke an egg on her ramp. This will hurt all future rolls.
8:15 PM BBT – James is making very slow progress and still has all 3 letters left
8:18 PM BBT – Victor fires an egg right through the legs of the H
8:23 PM BBT – Victor rolls another egg straight through the middle of the H
8:25 PM BBT – Corey hit his last letter but it goes nowhere
8:31 PM BBT – Corey lands another egg on the letter but it still doesn't move
8:32 PM BBT – Paul gets his second letter. 4-way tie. James has all 3 left
8:34 PM BBT – James got his first letter!
8:39 PM BBT – Victor knocks down his last letter and wins HoH!
Watch out Natalie and James. They'll go up then if the Veto doesn't change things Natalie is more likely to go as Corey and Nicole want her out instead of James.


What do you think of these results? Jump on the Feeds right now to see what happens next!
Nominations are coming up on Friday already so get ready for those spoilers soon then Power of Veto comp will be held on Saturday. It'll be a very busy weekend! Download our Big Brother App then join us on Facebook & Twitter for the updates.