CBS has just announced the new fall season of Big Brother "Over The Top" will start on September 28, 2016. Yes, just one week after the current season of Big Brother 18 ends and yes, "Over The Top" is the new title for this digital edition of BB and will not impact Big Brother 19 next year.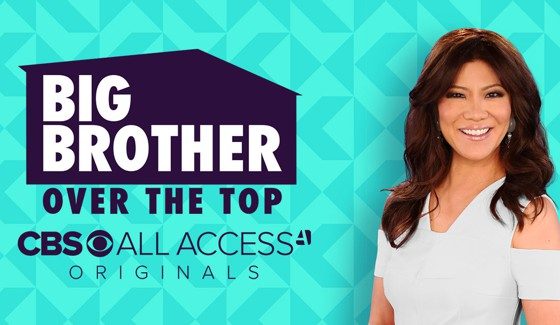 Starting at the end of this month the new season of Big Brother will launch a first ever All-Access based, online only version of Big Brother and we've got our first official details of the new season so get ready because this sounds awesome.
First up, on top of all the crazy Big Brother action you're used to we will also get an Over The Top "weekly episode with live eviction" each Wednesday at 10PM ET (7PM PT). Good. So this will be very similar to what we're used to on CBS but instead of it being on broadcast it'll be online. And yes, you can easily watch All Access on your TV with the right connected devices. Very easily.
There will also be "weekday recaps" which could be some sort of packaged clip shows to catch you up on all the highlights of what's been going on. And of course, "24/7 Live Feeds." Yes, lots and lots of feeds for Big Brother Over The Top, with, sit down for this, "no scheduled blackouts."
As we recently covered the competitions will be all live, "100%" said co-producer Heath Luman. So that means instead of hours upon hours of down Feeds to record competitions they'll include all those events live for us to watch as they happen. That's fantastic!
But wait, there's more! (But first?) "The viewer will have more influence over the game than ever before." Well that sounds interesting, but as we've seen with these America's Care Package votes that's not always a good or reliable thing. Either way, we'll get to own it I suppose.
As for the prize money, it's lower but still a huge amount. The winner of Big Brother Over The Top will earn $250,000.
Okay, so yes, we've got a new 10-week season of Big Brother Over The Top starting on Wednesday, September 28th. It'll be entirely on your Live Feeds through All Access and the price will remain at $5.99/mo along with the 1-week Free Trial. And yeah, we'll be covering every minute of the new season which means we've got Big Brother until nearly Christmas! My wife will be thrilled…
If you're planning to sign-up for All Access to watch the new Big Brother season then please consider using our links and banners since those sign-ups are a big part of what keeps this site going. Thank you very much!
Big Brother Over The Top announcement takeaways:
New season starts 9/28/16
Season will last 10 weeks
Online only through All Access ($5.99/mo – US-only)
Can be viewed on your TV through certain devices
Weekly eviction episodes Wed @ 10PM ET (7PM PT)
No blackouts. Live competitions.
Diary Room sessions
Viewer voting
What do you think? Ready to watch the new Big Brother Fall 2016 season? Remember just because it's online doesn't mean it can't also be on your TV. Grab our Big Brother App, join us on Facebook and Twitter, then get our Email Updates and you'll never miss a bit of Over The Top this fall.
Hat tip to reader Jarrod for the heads up.