We've got our first Head of Household endurance competition on the Live Feeds! We just saw the fifth Juror evicted from Big Brother 18, now are you ready to find out who will be the new HoH after hanging in there the longest in this week's comp?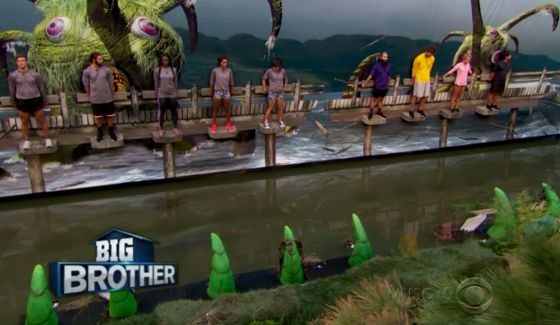 Houseguests were shocked to discover one of their past targets was about to come right back in the game and while they were still on tilt from the vote the HGs were hit with another one: endurance comp time! CBS is delivering this right now on the Live Feeds so turn yours own and start watching!
So who did win the Big Brother HoH comp tonight? Read on for the spoilers & results.
Big Brother 18 Jury Battle Back:
Victor Arroyo beat out Paulie Calafiore to come back!


Big Brother 18 Week 10 HoH Comp:

7:04 PM BBT – Feeds return. Everyone is still in.
7:09 PM BBT – Da'Vonne and Zakiyah both jump down at the same time.
7:10 PM BBT – 3 Jurors left: Paulie, Victor, & Bridgette
7:16 PM BBT – Corey fell
7:20 PM BBT – Other 6 still hanging on
7:22 PM BBT – James encouraging Nicole saying the big guys will fall soon
7:25 PM BBT – Bridgette fell. Jury Battle Back down to Paulie and Victor
7:35 PM BBT – Five left in the comp: Paulie, Victor, Paul, Nicole, & James
7:40 PM BBT – Paulie fell! Victor won his way back!
7:41 PM BBT – Victor drops. He's back in the game.
7:45 PM BBT – James tells Nicole he won't drop because he wants to stop being a HN
7:55 PM BBT – Paul is struggling with his grip
8:05 PM BBT – Wall keeps going really steep but the three hang on
8:20 PM BBT – James starts to admit he's struggling a bit
8:27 PM BBT – Paul falls and is out. Nicole or James will win
8:30 PM BBT – Nicole tells James she really wants her letter from home
8:35 PM BBT – James promising Nicole safety.
8:45 PM BBT – Back and forth deals being offered but not taking
8:50 PM BBT – James says he'd drop if he weren't a HN this week
8:54 PM BBT – James asks again if Nicole will keep him and Natalie safe. Nicole says yes
8:55 PM BBT – James drops. Nicole is the new HoH
The new HoH is… Nicole Franzel after James accepted her deal & dropped.
What do you think of these results? Jump on the Feeds right now to see what happens next!
Now before you go thinking this will just be a repeat of last week, like I initially assumed, Nicole has other plans. She told Corey that she will not put up Paul. Nicole wants him to help her and Corey next week in case of a DE.
Late night talks revealed who Nicole plans to send to the Block. Read all the details here.
The final round of America's Care Package voting opens Friday morning at 3AM ET so get ready to cast one day's worth of 20 votes for the BB Bribe. No, that isn't James offering Nicole and her showmance $10,000 again, it's something all new. $5K in Big Brother gold to hand over for another HG to do something they need. Cast your votes and get ready for the next ACP reveal.
Nominations are coming up on Friday already so get ready for those spoilers soon then Power of Veto comp will be held on Saturday. It'll be a very busy weekend! Download our Big Brother App then join us on Facebook & Twitter for the updates.