Want to find out who was voted off Big Brother 18 last night and which Juror won their way back in to the Big Brother game for another chance at the prize? We've got the results below plus details on the endurance competition that followed on your Live Feeds.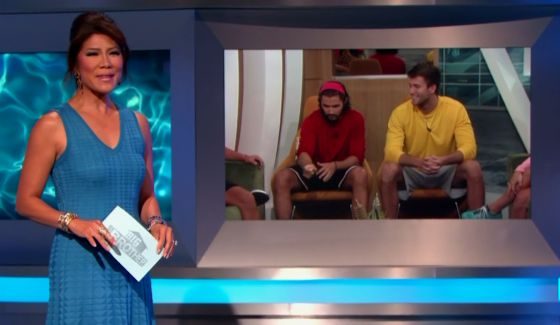 We were watching as Corey Brooks and Victor Arroyo faced the eviction vote with just three decision makers entering the Diary Room but would they regret that choice when they discovered one of the Jury members was set to return?
Amazingly the vote may have flipped in the last few hours before the show after Victor & Paul executed a strong strategy to convince James, Natalie, and Michelle the two guys were now at odds and Paul was planning to work with Corey and Nicole. It was a crazy, crazy afternoon of Feeds. Read all the background details while we wait on tonight's events.
Ready to find out who was voted out and who takes control next? Here is our live recap for Thursday with the latest BB18 results. You can download our Big Brother App, find us on Facebook & Twitter, and get our Email Updates so you never miss anymore Big Brother spoilers all summer.
The Round Trip twist is over and set to be replaced tonight with the Jury Battle Back twist with Da'Vonne, Zakiyah, Bridgette, Paulie, and tonight's evicted HG facing off in what could be a mega endurance competition combo. We've seen both separate competitions for a returning HG and the combined events so we're waiting to see which way this goes tonight. Be sure you're ready to watch tonight's endurance HoH competition starting at 10PM ET!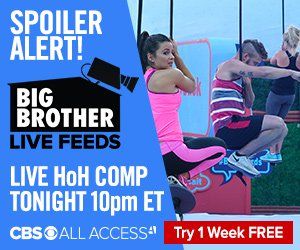 "But first" we've got some voting to take care of so let's see who will be sent out the door.
Big Brother 18 Week 9 Votes:
Nicole votes to evict: Victor
Paul votes to evict: Corey
James votes to evict: Victor
So James decided to not flip the Vote. Victor has been voted out again.
The game isn't over just yet for Victor so let's see how Julie reveals the news to these Houseguests. Victor has been anticipating the chance to come back while James, Natalie, and Nicole are convinced that won't happen. I'm thinking Paul's eyes are about to light up with this news.
Big Brother 18 Week 10 Jury Battle Back:
Julie reveals the Jurors will join the HoH endurance comp with the regular HGs. Longest lasting Juror will be back in the game. If he or she is also the last standing over the regular HGs than that Juror is back and the new HoH!
Victor Arroyo beat out Paulie Calafiore to come back!
CBS is holding off the final round of the Care Package voting until 3AM ET (12AM PT) so they're anticipating this being a long comp and likely over in five hours. This is a dedicated group of HGs when it comes to these comps so I wouldn't be surprised if we go that long.

Big Brother 18 Week 10 HoH comp:
When tonight's episode ends we'll be racing back to the Big Brother Feeds to watch the live endurance competition! Join us on there with the Live Feeds' Free Trial & see what the fun is all about.