CBS has announced that Julie Chen will deliver a "shocking surprise" during tonight's episode of Big Brother 18 where three Houseguests are facing eviction that will send one of the out the door.
Update: Julie revealed these first two evictees aren't out of the game yet! More details to follow… Yes, first 5 evictees will be fighting for a chance to get back in. Each week the evictee will battle the previous evictee. At the end of 5 weeks the survivor (read: Survivor Redemption Island) will go back in the house.
Read all the details from CBS on this Battle Back twist for BB18.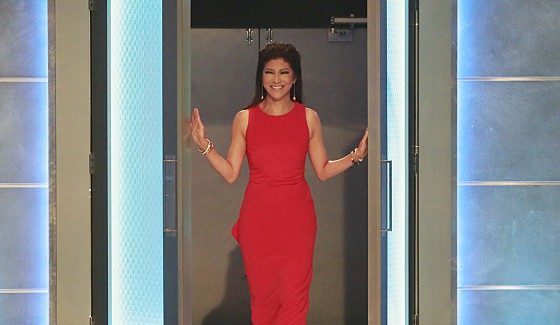 So what could be going on with this "surprise" and just how "shocking" could it be? We won't know for certain until after 9/8c tonight, but there seem to be a few likely scenarios.
Since before the season started I've been predicting one of the first evictees of the season to get a chance at returning to the game. We saw this in Big Brother 13 when Brendon won his way in over Lawon so this wouldn't be out of BB possibilities. It might be a little early to announce this in the first live show, but it's also the second elimination already.
Another possibility is the rumor from preseason that Julie Chen wouldn't announce the actual vote count this season. This would cut down on HGs' fear of retribution for not sticking to the plan and would also eliminate the function of a hinky vote. I actually like the hinky vote, but freeing up HGs to vote how they want would be nice as well. Everyone outside the house would know how the vote went, so we wouldn't miss out on the info but it'd certainly get a mystery going inside and that's what we want, right? Maybe.
Then there's speculation that other former HGs could be joining the game. Well that's a new one to me and I think it's a terrible idea considering those HGs have already been at it for more than two weeks in there. This rumor seems to be based off Donny posting a picture of the foyer luggage and saying "more things to come." Ugh. I hope they don't do that no matter who it is.
Don't forget that Grodner, BB exec producer, teased that we should expect the return of Pandora's room this season (the room, not the Box twist). I thought we'd see that in conjunction with the returning Vets, but they're here and the room isn't. Maybe we've got a new twist being added on that will play out in that room.
Of course the most likely surprise is the obvious one. Jozea will be announced as the new host of Big Brother when he exits the house tonight. He will then immediately take over for Julie Chen and declare himself the winner, thereby ending Big Brother 18. I just don't see any other way for this to go, right?
What do you think the "Shocking Surprise" will be when Julie Chen makes the announcement tonight on Big Brother 18? We'll be back here for the live show at 9PM ET so join us then for our spoilers, results, and complete coverage!