Frank sat down with Natalie and Bridgette last night and ended up telegraphing his alliance's punches loud and clear with a pitch to join the majority vote and help clear a path to the next target.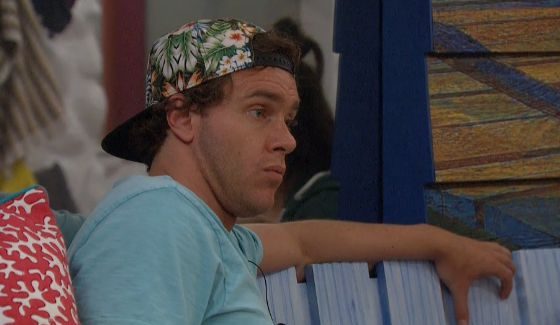 Not only did Frank confirm what Natalie had suspected with his vote and the upcoming eviction but he went as far to all but name their next target as a member of her team.
Flashback on your Live Feeds (Free Trial) to 10:10 PM BBT 6/29 Cams 3/4.
Frank is in the bathroom sitting with Bridgette and talking to Natalie. He wants to know how she's voting, but she says she doesn't know yet. Natalie turns the question on him and Frank makes it clear that he will not be voting against his own team. Remember that both Paulie and Bridgette are on Team Frank while Jozea is not. Natalie says she wouldn't expect him to vote against his team and it never made sense to her to believe that he would.
Frank encourages Natalie to come over to their side of the house and join the vote. Natalie says that he's going against promises he made to Jozea and his allies, but Frank counters saying they lied to him about plans to target him if Glenn had stayed. Frank says he knows she didn't lie to him and that's why he's coming to her with this idea.
Natalie says she's not the kind of person to make a promise and then not keep it. Frank says that's fine by he just asks that she not throw him under the bus by revealing what he's been telling her here. He also promises her that no matter which way she votes on Thursday she'll be safe and is no one's target right now.
Natalie tells them it's "common sense" who is going home tomorrow but she's sticking to her promise (to vote to keep Jozea). That's fine, says Frank. Now for his second point.
Frank warns Natalie she'd do well to throw the HoH comp. "You need to let things play out the way they're going to play out." He tells Natalie to "toss it" but she worries she could end up on the Block. "Why would you go up on the Block??" whispers Bridgette. Maybe Bridgette is not the best person to make that argument right now…
Bridgette suggests they promise Natalie safety if Paulie stays and Frank agrees completely even saying he won't say "if" because, he suggests, Paulie is definitely staying. Can't get more clear than that without counting out the votes for her.
Immediately after (10:20 PM BBT) Frank tells Natalie again that if he has the shot at winning HoH for her team then she needs to "drop it" because "there's someone on your team" that they want to go up and out. That'd be Victor and Natalie knows it. "You don't need to protect him," says Frank because it'd just put a target on her back when there currently isn't one and HGs would think they need to get both Victor and Natalie "because she's trying to protect him."
Word got back to the Eight Pack last night that Natalie knew what was up. Needless to say, they weren't happy. Frank's allies fear he was making moves to solely benefit his game over the alliance's safety.
Those fears rolled over in to today as Corey and Nicole were just now talking on the Feeds (1:45 PM BBT 6/30) that they're worried about Frank. Corey thinks Frank could flip his vote and ponders threatening Frank to keep the plan for Jozea's eviction. Nicole warned Corey that Frank is a comp beast and it'd be best not to threaten him. Both agree that if Frank does flip his vote then he can't be trusted. Strategy!
So not only did Frank clearly tell Natalie that Jozea is going but he also revealed that to Bridgette. Neither of these ladies are in his alliance and both are expected to be part of The Revolution alliance. Frank may be able to turn Natalie to their side later, but he should have thought more about the team on this one. Either way, the numbers continue to dwindle on who will still be surprised by tonight's votes.
Just as crazy as we thought it was for Victor to reveal to Nicole that Jozea was coming after her, Frank has now informed Natalie that his alliance is coming after Victor and we don't even know how the HoH comp will go. Risky.
We're just a few hours away from tonight's live eviction vote at 9/8c so be sure to be back here then for our live coverage of tonight's Big Brother 18 where we'll watch Jozea walk out the door, a new HoH take power, and the reveal of a "shocking surprise" by Julie Chen.
Update: During a talk between Frank & Bridgette this afternoon it sounds like the Powerpuff girls (Spy Girls) know how the vote will go, but the guys (Jozea, Victor, & Paul) are still in the dark.