The Big Brother 18 premiere is here as we settle in for a season of 99 days of Big Brother fun and adventure with our new batch of Houseguests, twists that we're waiting to untangle, and all the Feeds you can handle. But First, we've got a two-hour show to get through.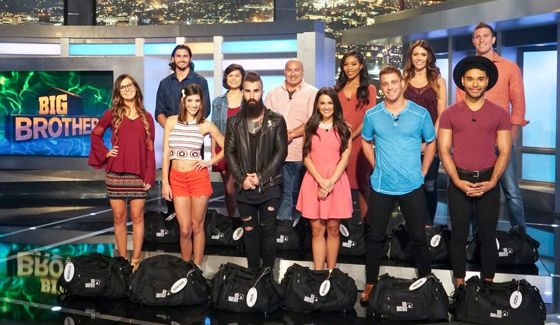 Julie Chen is back as our host from outside the BB18 House and she's ready to walk us through the new house redesign before sending the cast inside for their bedroom scramble and a little mind scramble when she starts revealing the season's twists.
We know there are only 12 new Houseguests so far, but they won't discover this angle of the game until they're settled in and start looking around. Can't wait to find out just how long it'll be before the other four "mystery guests" are brought in to join them.
Julie Chen reveals this two-night premiere will feature 4 competitions, 3 twists, and 1 eviction. Ohh yeah, didn't I tell you that was part of my predictions? The HGs have been in there for a week already so there's been plenty of time for lots of events.
All 12 of the HGs are gathered at the front of the house and Julie announces the first group to move in will be Michelle, Natalie, Paul, and Victor. Uh oh, Michelle. It looks like she was the first one in and you might remember the first Houseguest in has never won their season of Big Brother. (Rachel was first in her first season but then won her second season when she wasn't the first in.)
click images to see full-size views
Second group in was Bronte, Glenn, Paulie, and Zakiyah. That leaves the last group as Bridgette, Corey, Jozea, and Tiffany. Once everyone is in we get the gathering in the living room for champagne toasts and introductions.
click images to see full-size views
Julie announces there will be 3 twists revealed to the newbies before the sun rises and here comes the first one. 4 stowaways have been in the house since the newbies arrived and here they come.
Big Brother 18's Four Mystery Houseguests:
Nicole Franzel
James Huling
Da'Vonne Rogers
Frank Eudy


Julie reveals the next twist. Houseguests will be playing in teams of four and the four Vets must be on different teams. Sigh. This is just BB14 all over.
Big Brother 18 Teams:
Team 1: Frank, Michelle, Paulie, Bridgette
Team 2: Day, Paul, Zakiyah, Jozea
Team 3: James, Natalie, Victor, Bronte
Team 4: Nicole, Corey, Tiffany, Glenn
Teams will be holding on to rockets and has 4 chances (HGs) to stay alive. First team to be all out will be Have-Nots. Third place team gets a mystery punishment. Second place team gets $10K to split. First place team gets safety in the first two evictions. Time to see what happens!