Big Brother 18 kicked off the "craziest summer vacation" ever Wednesday night in a two-hour premiere filled with too many twists, too many competitions and too much stunt casting.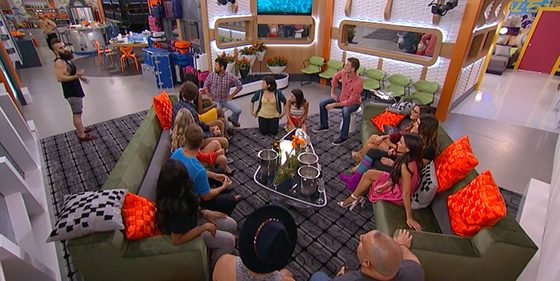 Between four returnees, billed as "stowaways" and two siblings of recent players, this season makes me think Big Brother producers don't have faith in their show. At least they skipped Season 15 when they sent out those returnee invitations.
As for the returnee choices, I think it would have been nice for them to dip a bit deeper in the barrel since they're all from Season 14 on, but I do think they made some solid choices. I was a big Da'Vonne Rogers supporter last season and James Huling and Frank Eudy both won the fan favorite vote. Nicole Franzel is a super-fan who played with a lot of heart, so it makes sense she'd be asked back as well. Maybe Season 16 fan favorite Donny Thompson passed?
The newbies are definitely strong this season. They all seem to know the game a bit more than ones in season's past. I'm not saying they're super fans or anything like that, but they must have paid attention to the seasons they made them watch in sequester.
As for newbie likability, there's not much to go on yet, but there are definitely some people already rubbing me (and others) the wrong way. Paul Abrahamian is a bit much, as is Jozea Flores. Glenn Garcia is likely to end up our first boot, so the fact that he is horrible at competitions doesn't even matter. Paulie Calafiore and Tiffany Rousso look too much like their siblings to pull off their secrets. Lucky for them, the vets are the bigger threat.
Now let's get to the twists. I don't mind the team angle that much. I like the idea of knowing that certain people can't go home. I'm a nervous person by nature, so I think I'll be pretty happy when players I like are definitely safe from the eviction vote. I also like the idea of the first person going home being the person who loses the competition. That's not how it's going to be all summer, so I can handle it the first round.
There's no word if the rest of the summer will play out similarly to this, however. I'm guessing the rest of the season will go like a team season usually goes: the team with the HOH is safe and can't be nominated. We should find out more on that tonight.
So there are my two cents, what about yours? We've turned to Twitter to get first impressions from some of our readers and you guys did not disappoint.
@ddamp23: Da'Vonne is annoying and needs to leave soon

@p_mowrey: liked it. thought the immediate elimination was a good idea.

@PupRiku: Paul is PERFECT drama. Victor is a sleazeball. Day is making same mistakes. Glenn is in trouble.

@avamariacarter: Really REALLY disappointed in Da'Vonne … can't believe she's having a breakdown already and has no clue on the idea of teamwork. It's all about HER

@haeleitak: Interesting start. Not loving the team idea but they had to keep the returnees safe somehow. Still, Im excited to see whats next

@LoraK318: God help us all if Michelle, Nicole and Bronte all start talking at the same time!

@gary_Beck1: paul needs to go. Way to bossy.

@joshuarhicks: love that there are twists… just hope they didn't use them all up already. wish 1st evictee was by vote tho

@chattie: too complicated in the beginning. Tried to be cute with the twists.

@kaliasstomach: the usual, CBS is convinced we like twists & scripted diary rooms. Screw the reality, screw the actual game

@farva1966: no way a returnee goes home. I want basic BB the social experiment game that we fell in love with not forced crap

@BradDillon17 : episode felt chaotic and not in a good way. Too much going on. Not off to a good start, but plenty time left

And my favorite:

@StonoPurls: Julie only said "but first" once in 2 hours. I'm so disappointed. Paul is annoying but good to have BB back on tv
Now we're on to preparing for the second part of the season premiere tonight on CBS at 9/8c with the first eviction and a new Head of Household coming up. It's going to be a busy night with lots going on so be sure to join us for the fun.