While the Big Brother Houseguests have been recently folding to the will of Paulie Calafiore that may be coming to a close, at least temporarily, over his plans to target Da'Vonne Rogers for a Backdoor eviction this week.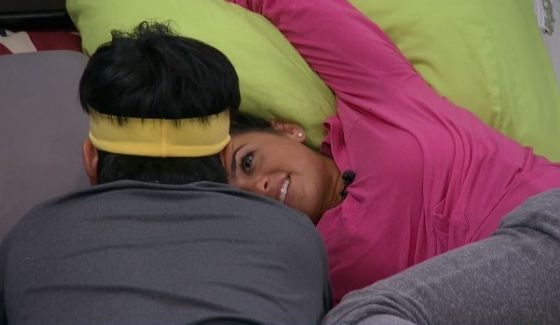 Earlier on Saturday Paulie was letting HGs know the plan was still for Da'Vonne to go up and out the door this week after the Veto Ceremony on Monday, but not everyone is as on board with his plan as initially appeared to be happening. At least some of them may be willing to do something about it.
After Paulie locked down the Veto win and knew there would for certain be a spot opening up on the Block he went to James and reaffirmed his plans to get Da'Vonne out. James didn't seem to enthusiastic about this as he's clearly been wanting Bridgette out and he's not alone.
James spoke later with Natalie (Flashback to 10:00PM BBT 7/30) as she wanted to know what the plan was this week. He only let her know there was a BD plot on the move, but she didn't need to know more than that right now. Natalie wondered if there were the votes to make a Backdoor happen. James says he's going to try and make sure the votes flip back to evict Bridgette instead. Natalie lightly protests saying Bridgette wouldn't be coming after him, but James doubts that and suggests Bridgette would at least use him as a pawn.
Jump ahead to 12:05 AM BBT 7/31 to find Paul and Zakiyah alone in the hammock. She tells Paul she wants Bridgette gone even though she knows Paulie is trying to get Da'Vonne up and out. Paul says he's sure Bridgette will be going home but he'll be putting up Da'Vonne. If the house votes her out then that's on them and out of his hands. Well it won't be if things come down to a tie considering there are eight votes out there this week.
Move ahead to 2:03 AM BBT as Zakiyah talks with Michelle over the possible renoms. Michelle is a little worried about what Paul might do but Zakiyah says she hasn't a clue what Paul is going to do even though he told her just a few hours ago. Zakiyah says it could be Da'Vonne going up since she volunteered, which surprises Michelle, but even if Day goes up Zakiyah says it better be Bridgette going or she'll be upset.
Zakiyah and Michelle say they'll only need four votes to keep Da'Vonne around and mentions it'll be up to those two out there, but I'm not sure who she's referencing. James and Natalie are in the kitchen at the moment so it might be them. If it is then I think she'd have James on board but I'm not so sure Natalie will vote Bridgette out, but they're going to need her vote if they want this to work.
With eight votes in the mix we could see Victor, Corey, Paulie, and Nicole voting against Da'Vonne. On the other side we've heard Michelle, Zakiyah, and James want Bridgette gone. That leaves Natalie in the middle. If she's willing to cut her ally Bridgette and side with James in this choice then the decision would go to Paul. He's said repeatedly he wants Bridgette out but then he'd have to tie-break against how all the other guys in his team just voted. Hmm.
I think we've got an interesting week ahead for this vote and Monday could get tense as everyone seems to know Da'Vonne is going up as the renom and the new target but no one is letting her know that. Ouch. Who needs enemies when you've got allies like this, huh?
What do you want to see happen this week? Should the house go against Da'Vonne or is it Bridgette's time to go?