Our latest poll is open for this week's Big Brother 18 popularity contest where you can vote up your favorite Houseguests of the 2016 season. We've also got our results from last week so we can make our new rise and fall comparison of the summer.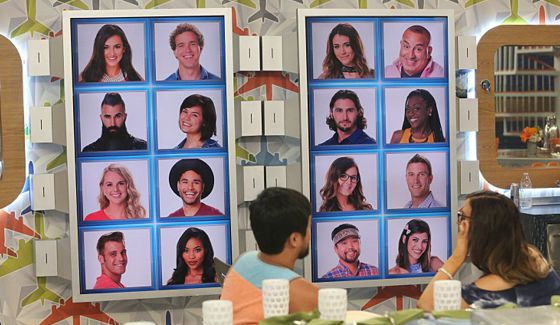 Once again all sixteen Houseguests are here in the poll so even if they've been voted out you can still support your favorite.
For the second week in a row we've got Nicole taking the top spot while James sits in second place after having held the top rank all season long. Could James's plans to ditch playing Big Brother in hopes of securing the AFP prize instead be about to backfire?
Victor made a jump up two spots to enter the Top 3 after working his way up the past few rounds. He's got Paul right behind him at spot four, down one from last week, as Natalie also continues her slide.
Corey can celebrate as he is finally more popular than all the evicted HGs, a first for him this season, though he still remains the least popular active HG. What a dud that guy turned out to be.
Last week's evictee, Michelle, has fallen six spots in the past two weeks and sits now at 12th. Such a big change since that week she won ACP and then targeted her former allies instead of the target she wanted (Nicole), though that might not have helped her in this poll considering Nicole's current station.
Oddly Glenn leapt from 15th place to 8th which tells me family, friends, or a group of fans decided to raid the poll last week since he's spent the vast majority of the season near the very bottom. Oh but don't worry about the very bottom space. Jozea continued his dominance of the 16th most popular HG as he has the entire season.
Check out all the results from last week and see how they performed when compared to the previous round's results for gains and drops then be sure to scroll down and vote for your current favorite in our latest poll.
Big Brother 18 Popularity Poll Results – Wk 10 vs Wk 9:
Vote here to support your favorite Houseguest for Week 11 of Big Brother 18.