Last night on the Big Brother 18 Feeds this week's marked-for-eviction Houseguest, Paulie Calafiore, set his own targets in hopes of a return to the game with a Round Trip ticket. He's ready to "go hard," win the HoH, and get his revenge.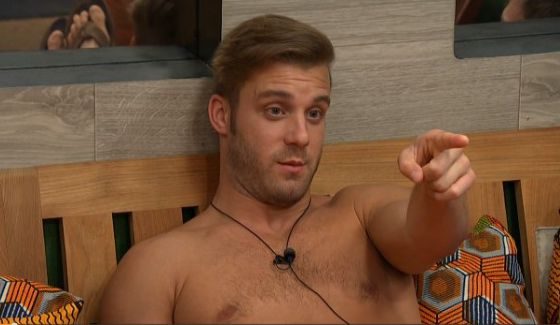 Paulie knows his game could be up tonight and there's no doubt in his mind that he'll be the one voted out. But if he's got that golden ticket then get ready because his targets are set.
Flashback to 12:23 AM BBT 8/18 (get your Live Feeds Free Trial to watch) as Paulie talks with Nicole and Corey about his return trip targets.
Paulie promises he'll be "going hard for the HoH" and will "talk the most s**t" if he's got that twisty twist twist ticket. Sounds like he'll try to return the favor from the other day.
If Paulie snags the HoH win then we can expect him to send Victor and Paul to the Block. No surprise there really. He explains Victor is a comp beast like he was labeled and this would finally make them even (although it'd be the second time Paulie nominated Victor).
Paul would be going up beside him as the backup plan since Paulie says he'll need to get one of the two targets. He calls Paul a weasel who sold him out through the house.
Should either of those guys escape the Block then James will be his renom and he'll tell James, "you started this whole thing." I don't think James would be the one to go though if he ends up on the Block against either of them. I don't think this scenario can happen though.
One trouble point here for Paulie's plan. Thanks to the next America's Care Package, even if Paulie does win HoH someone else will likely be getting the Co-HoH. Michelle, Paul, and Victor are topping our poll over Corey and Paulie by a wide margin with the first three holding roughly 75% of our readers' votes over a combined Paulie & Corey win.
Paulie would be able to get Victor or Paul on the Block but say if Paul wins the Co-HoH power then watch for Corey to go up and out the door since Paul's allies have the votes to control the outcome.
No matter what happens tonight it'll be a dramatic reveal of Paulie's airline ticket. If he does have that Round Trip then get ready for some fireworks!
Do you think Paulie could pull off a big upset tonight and not only get the RT but also win HoH and go from doghouse to penthouse in one day? We'll see what happens during tonight's live eviction show. Join us then!