It's time to look at who is going home tonight on Big Brother 18 or more accurately, who is about to get voted off and presumably head on off to Jury house. Whether or not that Houseguest has the Round Trip ticket is an entirely different topic right now because someone is going to be voted out either way.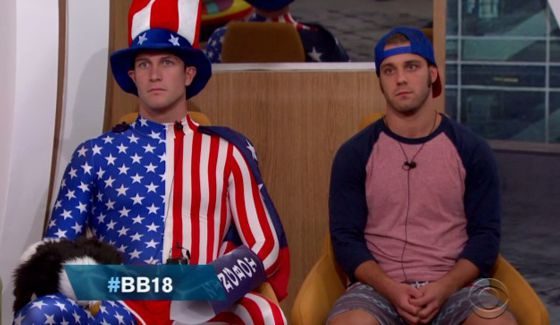 There are five votes again this week on Big Brother just like during last week's craziness with the nullified votes that James ended up putting to effective use to support his allies in their bid to weaken Paulie and knock out his ally Zakiyah. Now they're ready to finish the job.
Corey is up there on the Block against Paulie which leaves Nicole, James, Natalie, Michelle, and Paul to vote. I don't see a single name in that list who wants to keep Paulie. None of them.
Paulie hasn't entirely given up and Corey knows it after the two promised not to campaign against each other. Corey shouldn't be worried, but naturally he and Nicole are concerned. Corey has been frustrated because Paulie has stayed so close to him this week that it's been hard for him to even get away and check in on the votes.
James, and Natalie by extension, know they need Paulie gone after the flip last week that Paulie hasn't likely forgiven James for pulling. Paulie has campaigned to James that he could be kept as a weapon against Victor, but so far James isn't biting. There was also some campaigning to Michelle which pulled at her sympathy strings, but the next day she was back to resisting his efforts on that front.
As for Paul, he isn't going to budge. This whole exercise was encouraged by him so there's no reason for him to back down now. He knows Paulie is a threat to his chances at getting to the end and he won't jeopardize this opportunity.
Paulie has a hefty wins record with two HoH's and three Veto's so far this season which not only pads his resume but makes him a threat to take out later down the road when there's even less competition and fewer opportunities to send him out the door. Before his game blew up and was exposed he even had great relationships with so many HGs that he'd be a likely shoo-in if he made it to F2. There's no reason to pass up this opportunity just as Victor would be another huge threat that others will likely want to target.
Right now I'm expecting a 5-0 vote against Paulie, but if someone toss him a sympathy vote as has been lightly discussed then I won't be shocked. Either way, Paulie won't be getting the three votes necessary to stay. He's done.
What do you think will happen? Could Paulie pull off a huge upset and find a way to get Corey evicted? Vote in our poll below for who you think will be evicted and share your thoughts in the comments section as well while we wait for tonight's live eviction show on Big Brother 18.