Frank Eudy was the first Big Brother 18 Houseguest up this morning and by morning I mean, somewhat before noon, but he was soon joined by Paulie Calafiore, one of this week's nominees. With no one else around they were able to talk plans to keep Jozea in the dark this week.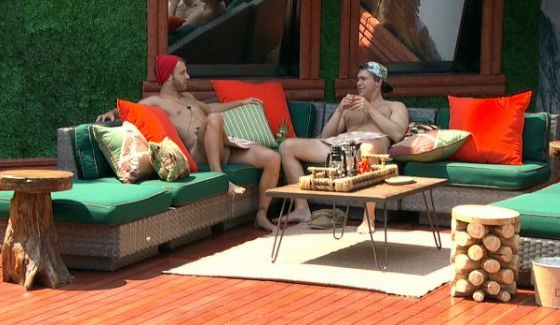 Right now the numbers are stacked against Jozea, but he's clueless about the real lay of the land in the BB18 house right now. Earlier we looked at the alliances for this first week and if Jozea could see that he'd be sweating bullets. Instead, he's overly confident he's running the house and Frank explained why he wants to keep it that way.
Flashback on your Live Feeds (get the Free Trial) to 10:53 AM BBT 6/25 Cams 3/4 for this discussion.
Paulie and Jozea are effectively locks for two of the final noms as Paul won Veto and is sure to use it on himself, despite previous considerations to do otherwise. If Frank sticks to his plan, as the Road Kill winner, then Bridgette goes up as the third nom and there's another number that Jozea won't be able to pull while she's ineligible for voting.
With 15 HGs left, 1 HoH, and 3 noms that leaves just 11 votes and only 6 votes to evict with no chance of a tie-breaker. The Eight Pack alliance only has one ineligible voter and that's Nicole, the current HoH. So if their seven sticks together and votes against Jozea without splitting off more than one vote toward Bridgette then Jozea's gone.
Note: As pointed out below, yes there could be a tie, but I've disregarded Bridgette from receiving votes in my thoughts above. If she does draw votes then a tie is possible and six is no longer the magic number.
Eight Pack doesn't include Paulie, and Frank is disappointed by that, so he isn't aware just how solid his chances are of being well protected. He does feel good about his odds though.
Paulie retold to Frank his talk last night (around 2:30AM BBT) with Jozea who ran through his thoughts on this week's voting. Paulie explained that Jozea promised he wasn't telling others to vote out Paulie, but he is and Paulie knows it. He was happy to share that Jozea isn't sure about Houseguests like Corey which tells the guys that Jozea is really flying blind right now.
click images to see full-size views
Frank explained that if they can keep the other newbies in the dark until the actual eviction happens then they'll be too shell shocked to focus and perform well during the next HoH comp. Frank relayed how that happened to him when Boogie was evicted ("Get to steppin'") and how his brain was scrambled in the Q&A competition that followed (Ian won that HoH).
It's a good strategy and if everyone can keep it together for, yikes, five more days then it'd work. But if someone starts running their mouth then don't be surprised to see it shift to a wider divide than 7-4.
Think Paulie is in a good spot this week? Which way would you be voting if you were a Houseguest?
Update: Jozea is seriously going to be shocked if they can keep this up.
Victor to Jozea: I'm not scared of nobody in this house. I just don't wanna be the person to tell someone (Paulie) "You're going home" #BB18

— Big Brother Feedster (@BBFeedster) June 25, 2016