Big Brother is all about the alliances. The more the better and the more the earlier is even better! Wait, that's not right. No matter. The Big Brother 18 Houseguests are busily making deals and alliances so you'll want to keep track of who is working with who.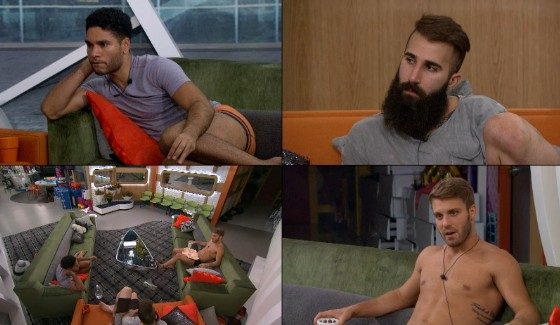 There's been a lot of activity with the Houseguests and while nothing has built up to the size of the Bomb Squad (BB16) there's still a large group that's currently running the board this week. But Big Brother is a classic tale of doghouse to the penthouse, so no one should get too comfy with where they are now.
Thanks again to the amazing efforts of @89razorskate20 we can keep track of the latest alliances for BB18 and there plenty to keep us busy. Here we go.
twitter-tweet" data-lang="en">

#BB18 After The 1st Night Of Feeds, Here's The Next Alliances & Deals Update! pic.twitter.com/gPNfWD8eZ1

— Big Brother Junkie (@89razorskate20) June 24, 2016
Eight Pack:
– James, Nicole, Frank, Da'Vonne, Michelle, Zakiyah, Tiffany, and Corey.
– Sub-deal: James & Nicole
Fatal Five:
– Da'Vonne, Nicole, Michelle, Tiffany, and Zakiyah
Rookies:
– Victor, Paul, Jozea, Natalie, Bronte, and Bridgette
Powerpuff:
– Natalie, Bronte, and Bridgette
Paulie's deals:
– Paulie working with Corey and Frank
Eight Pack is obviously running things this week. Frank did some camtalking this morning and expressed regret that Paulie wasn't part of this alliance but says he was in the wrong place at the wrong time on that one. However, since Paulie is on Team Frank you know he'll keep an eye out for him.
Fatal Five is a subset of the Eight Pack and a strong one at that. The male Vets would be worried if they know about this one so let's see if they can keep it quiet.
Rookies are about to take a hit this week, most likely, when Jozea gets sent out. If they scatter then the Vets could scoop them up for side deals. Or maybe they'll just close ranks and fight to secure power to change up the game.
Powerpuff may hold on, but I'm expecting them to splinter before too long.
As for the Teams, geez, do we have to name them? No? Okay, great. Let's refresh on them too.
Team James: James, Natalie, Victor, & Bronte
Team Nicole: Nicole, Corey, & Tiffany
Team Frank: Frank, Michelle, Paulie, & Bridgette
Team Da'Vonne: Day, Paul, Zakiyah, & Jozea
Only Team Nicole is down a player at the moment after Glenn's eviction. Team Day could be next. Overall I think Team Frank is probably the strongest, but it's early.
What do you think of the alliances out there so far? Any of them bad moves? Did Eight Pack go with too many HGs for their deal? Share your thoughts below.