Saturday in the Big Brother 18 house gave us lounging Houseguests with the backyard open again for some fun by the pool but when the sun went down another round of drinks too things off again. Meanwhile eviction plans continue to build.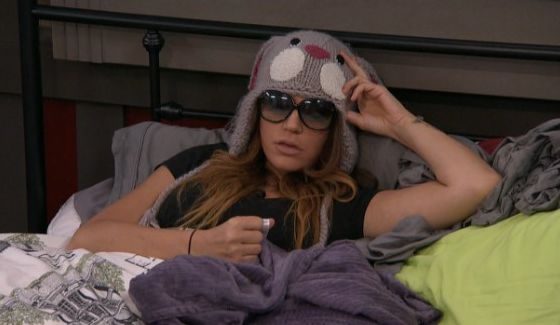 If you've got the Live Feeds (Free Trial) then you can watch all of these moments with the Flashback feature to go back and watch those important conversations or funny scenes that you might have missed. Hope you enjoy these again this year!
Big Brother 18 Live Feed Highlights – Saturday, June 25, 2016:
9:50 AM BBT – Frank rises, makes coffee, and heads outside for camtalking.

10:00 AM BBT – Frank discussing how shocked Jozea will be when he is voted out this week.

10:20 AM BBT – Frank says he's very happy to work with these particular Vets. He is however cautious of James who has a crush on Nicole. Frank worries James might make a dangerous move later to aid her over him.

11:00 AM BBT – Paulie is awake and joins Frank outside to discuss the week's voting plans. Frank is confident they have a solid majority in Paulie's favor for the vote.

11:30 AM BBT – Rest of the HGs get their wake up call.

12:00 PM BBT – The new backyard pool is getting lots of use. It's been all redone and looks huge compared to the old one.

1:50 PM BBT – Jozea and Victor talking votes. They feel good about at least six votes so far but unknowingly are counting Vets who are voting against Jozea. Victor wants to target Da'Vonne and Zakiyah.

2:00 PM BBT – Vets trying to determine if the next HoH will be individual or a group effort due to their teams.

2:05 PM BBT – James and Da'Vonne discuss how poorly Jozea is playing, but they want to give him a nice goodbye message in case he comes back.

2:20 PM BBT – Jozea is telling Da'Vonne all sorts of things about why Paulie needs to go and how he's had a fake deal with Paulie to hide his true intentions. Lots of agreement and nodding from Da'Vonne as Jozea keeps spilling his plans.

2:30 PM BBT – Jozea says their next target should be Nicole and he'll do it for America.

3:00 PM BBT – Da'Vonne retelling Paulie her conversation with Jozea. They realize Jozea really thinks James and Frank are on his side.

3:10 PM BBT – Politics start being discussed in the backyard. No thank you.

3:45 PM BBT – Bridgette mentions the pixels punishment ends on Tuesday night.

4:00 PM BBT – James with Da'Vonne and Zakiyah discuss the latest on Jozea and how Tiffany makes them a little nervous. They're not so sure about how Paulie and Tiffany talk alone. Zakiyah says Tiffany was trying to play Vanessa's tricks by asking her for personal feelings, etc., but she didn't indulge.

4:10 PM BBT – Frank joins the talk and is defending Bridgette. He trusts her and says she's just acting flakey because she may be worried about going up on the Block.

4:50 PM BBT – Nicole and Natalie discussing Victor. Before the Feeds came on there was a brief showmance flare up but he cut it off and she was hurt.

5:20 PM BBT – Tiffany is camtalking about the other HGs. She has the most trust in Nicole and Michelle and isn't going to bother being nice to Jozea since he's as good as gone. Tiffany says all the Vets know about Vanessa, but about half the house hasn't heard yet.

7:30 PM BBT – Dinnertime for some of the HGs courtesy of Da'Vonne's efforts.

8:00 PM BBT – Da'Vonne and Tiffany comparing notes on their Eight Pack alliance. They feel pretty good about them but Tiffany warns the three guys could decide to align separately. (Note: The 5 women have already aligned separately with the "Fatal Five.")

8:15 PM BBT – Da'Vonne says she definitely did not like the "Mama Day" nickname last season and blames it on Clay.

8:30 PM BBT – Frank tells Paulie to start acting nervous so Jozea will feel more comfortable about the eviction vote.

9:00 PM BBT – Houseguests get a round of drinks. Zakiyah takes an entire bottle of wine and gets called out. She says it was for several HGs.

9:10 PM BBT – Paul decides he's drunk already.

10:00 PM BBT – Houseguests enjoying their night and the drinks they had. General silliness and chatter.

10:30 PM BBT – Tiffany starting a little classic Rousso crying and emotional session, but says she doesn't want to do that this season. She's upset over Frank getting a temper with her earlier. Zakiyah is comforting her.

11:05 PM BBT – Corey tells a story about his friend trying to set a goat on fire.

11:15 PM BBT – Victor divulging more information to Nicole. He says he's not going after her, but he's got his eye on James, Paulie, and Tiffany.

11:25 PM BBT – James is playing a prank by putting whipped cream on a sleeping Paul. Big Brother hasn't woken Paul up for napping on the couch. I guess even they need a break sometimes.

11:40 PM BBT – Bridgette tells Paulie she expects to be the renom. Paulie promises her they're a team and will stick together.

12:30 AM BBT – Fatal Five alliance is talking in the HoH room. Paulie and Bridgette can't be trusted, the group decides. Victor may be their next target, but Nicole wouldn't mind Bronte going next.

12:45 AM BBT – After Tiffany left the other girls agree that she is too emotional and feel they can't tell her things openly. Tiffany got upset when she heard others were targeting her. They want to hold info back now unless it's critical/imminent. Well there the cracks are forming, huh?

1:15 AM BBT – Nicole tried to repeat James' prank but with shaving cream on Corey. She gets caught before she can get there.

1:45 AM BBT – Tiffany talking to Michelle about how Da'Vonne told her to calm down earlier during the Fatal Five meeting. She is none too pleased with Da'Vonne.

2:30 AM BBT – Houseguests are settled in for the night.
Jozea remains overly confident and ready for Paulie to be evicted on Thursday though he showed signs of concern over Paulie looking too comfy. We'll see how this goes with four days until the Thursday night vote. Meanwhile there may already be cracks in the Fatal Five alliance as some of them are worrying about Tiffany and Tiffany is a Rousso so there's that. Should be good fun for us at home!
You can watch all of these Big Brother events using the archives Flashback, the DVR-like feature of this year's Live Feeds which means it's always live, even when you missed it! Sign-up now and get the free trial to watch it all live & uncensored.

click images to see full-size