We have received very interesting details that Big Brother production is actively recruiting "Mock Houseguests" for a week long BB18 experiment that has my heading spinning with possibilities.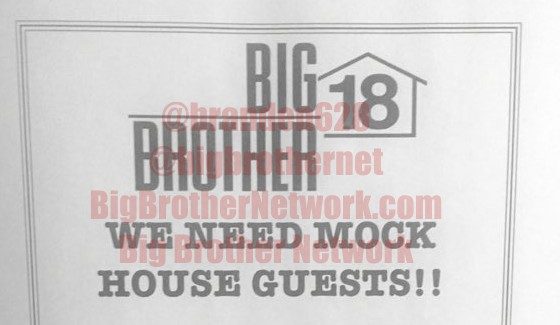 Spotted in the wild and sent to BBN writer Branden, this flyer cites a search for "Mock Houseguests" for a six day run of 7AM-11PM events where the potential HGs must already know the Big Brother game. Oh really? Do go on.
You can see the full flyer below, but here is the text included:
Big Brother 18

We Need Mock House Guests!!

Do you know anyone who has always wanted to live in the Big Brother House?

This could be their chance!!

When:
June 6th – 11th 2016
7:00AM – 11:00PM Daily
3 meals provided each day

Requirements:
Must be available all 6 days
Must also attend a meeting on Wed June 1st
Must be 21 and over
Must be outgoing and interesting
Must understand the BB game

If you know anyone who might be interested, please contact me!

[Contact information redacted]
click image to see full-size view
Update: To address questions we're seeing: This was not from an anonymous source. The source is known and trusted. The validity of the flyer was confirmed via the contact information which I covered to prevent putting the person's info on blast, but it traced back to "Our House," the production team for Big Brother. There is no question that this flyer is real as is the search for "mock Houseguests." What we don't know is the "why?" or "what?" for this search so the rest is our speculation.
Whoa, whoa, whoa! So what's going on here? Branden and I discussed and each have our own take on it. Here's what Branden speculates could be going on:
Could these "mock house guests" be to simply throw us off? Will they be "living" in the Big Brother house for six days to make us think this is the new cast via feed leaks or "production leaks"? And then on premiere night, we get the switcheroo and get an all-stars cast? Decoy HGs seem like a lot of work for CBS just to keep us from knowing this is a returnees season, so this theory is probably off a bit. But you never know. Allison Grodner did tweet for us to "expect the unexpected" today.
Very interesting and totally possible. My take on it is we're seeing the search for test run candidates, but the house probably hasn't changed that much and what could they be testing out for 16 hours a day for 6 straight days? How about some new HGs in need of cutting their teeth?
I think we're looking at the "Mock Houseguests" as crash test dummies for a batch of newbie HGs who will eventually be going up against a group of returning Houseguests in some sort of "Versus" season of Big Brother. A six day run against these disposable opponents will get the newbies battle ready, or at least a little more than cannon fodder ready for when the real opponents arrive.
Download the Big Brother Network App – Lots of Updates & Totally Free!
The end date (6/11) for this six day span will end just two days before the cast reveal on the Feeds (6/13). So the timing is good for these newbies to come out of their dry run, do their interviews, and then get tossed on in to sequester. Of course sequester raises the question of wouldn't these players just have seen and interacted with each other for six days? I dunno. I don't know on any counts here and this is entirely speculation.
Outside of this flyer, which Branden did confirm was legitimate through additional research, we know nothing than the words written on that page. But oh boy I do love me a good preseason rumor fire and I think we just lit a BIG one, huh?
So what do you think is going on here? Whatever it is, I'd just like to point out that in our own polling, out of the options of all-new, all-vets, and combo newbies/vets the combination of new and old players was the least popular pick by massive double digits. Naturally that seems like the perfect thing for production to give us then, right?
We will keep following this thread and see where it leads us. Be sure to follow us on Facebook, Twitter, and get our Email Updates to find out what's happening next as we prepare for the cast on the 13th (make sure you have your All Access ready) and then the Big Brother 18 premiere on June 22nd.