Well here's a facepalm moment for you. Just after the Big Brother 18 Veto Meeting Michelle turned on her campaign and just as fast as it started it may have hit a roadblock. Interestingly that may have been caused by Paul who has spent days trying to save her only to sink her hopes.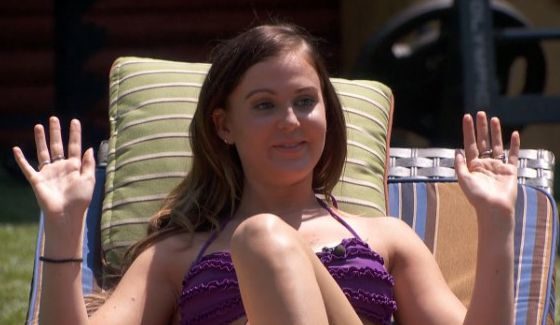 After the meeting was over Michelle quickly moved to the backyard for some sun and was joined by Paul. He congratulated her on a bold Veto speech though I suspect no beads were given this time around. Instead Michelle took the opportunity to mark a new target for the house.
Flashback to 11:45 AM BBT 8/8 on Cams 3/4 as Paul soon joins Michelle for a little talk. Paul gives her credit for not going quietly and Michelle says she wants to make sure everyone keeps in mind how much Paulie has been winning. Sounds like she called him out as a wide threat to the rest of their games.
Michelle asks who Paul thinks Victor wants out and he suggests it isn't Michelle. We know this to be true as we also know Paul wants to keep Michelle while Paulie wants her gone and Zakiyah to remain in the game. Paul does continue to lie and say he didn't even know Victor was going to put her up.
Paul asks for Michelle's campaign pitch. She promises Paul she wouldn't come after him in a Double Eviction (DE) nor would she even use him as a pawn in the process. She adds that Paul would be welcome to use her as a pawn. This was part of the advice James gave her last night in their talk that might have once been a sea change for the weak, but I now think is over.
So who are her targets, Paul asks after Michelle also says she wouldn't put up Victor or Bridgette. We're quickly running out of options there as we then have Paulie, Nicole, Corey, James, and Natalie. Now we know from last night's talks that Michelle has said she would not put up James or Natalie and I think she meant it.
Michelle only reveals that she has an idea. "Let's just say it'll be a big move cause I got screwed over, but don't tell anyone… I think it's good for a lot of people." Paul says he thinks he knows what she means. Now the quick reaction for me is that she means Paulie especially considering she just made that little speech at Veto about his danger in the game for so many of the HGs.
Paul encourages her to try that pitch to Victor and Bridgette as she tells Paul she only needs three votes. Now hold up. There are seven votes this week and four are needed to stay unless James uses his power to knock out one sides' efforts making it only require three votes to stay out of the five active votes. Michelle saying she only needs three suggests she has James's support with his ACP power and is reinforced when she says she thinks she has two already. If she's banking on needing only three and thinks she has two already then that should tell Paul she has talked with James and he has possibly promised his ACP power along with James's and Natalie's votes too.
Michelle says she'll go talk to Victor and hopes she can sway Vic by reminding him of Paulie's repeat wins. Paul warns Michelle that Victor is close to Paulie. She says she knows Paul is too and hopes he won't run this back to Paulie. Guess what. Yep. Paul tells Paulie so read on…