Over the past several days of the Big Brother 18 Live Feeds we've listened as Paulie Calafiore has threatened to abandon his obligations in the game when it comes to Jury and his recent competition punishments. Will Paulie bail on Big Brother or are these just empty threats?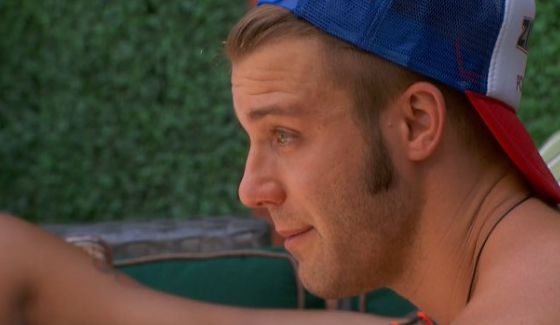 It's never fun when something doesn't go your way, especially when a half million dollars is on the line, but is it ever okay to pick up your toys and go home because you didn't get your way?
On Saturday night (Flashback to 7PM BBT 8/13) Paulie began telling Nicole how he wasn't planning to stay in the Jury house if he was evicted this week and there didn't appear to be a way for him to get back in the game. She tells him that's a bad idea and isn't what Cody would want him to do.
Soon Paulie escalates his threat saying he has severe claustrophobia and can't face the mental challenges of being locked in the Jury house for five weeks. (It's currently Week 8 for these HGs being in the Big Brother house.) A little while later Paulie suggested his former therapist advised him against being on the show as though he's suggesting he's again unable to fulfill his Jury obligations for this reason which hadn't been an issue before this turn of events.
A few hours later (10:15 PM BBT 8/13) Paulie is now claiming he won't complete the punishment "prize" he received during Saturday's Veto comp. Paulie ended up with the "prize" of making an apple pie every time the Zingbot sings on the PA, "oh say can you Zing." Then Paulie has to wave a Zingbot flag (a small one) for 40 mins while the pie bakes. This punishment was supposed to last all summer, but he'll likely get a short tenure with it since he's slated to be evicted on Thursday.
Well guess what. Paulie doesn't want to bake any pies. He says he'll take a penalty vote instead, a past punishment reaction from production for breaking the rules.
Jump forward to Sunday at noon as Paulie is talking with Victor trying to convince him to use the Veto on Corey (so Paulie can campaign). In the midst of their discussion Paulie again claims he won't stay in the Jury house if he's evicted.
There have been numerous discussions between Paulie and the other HGs about his threats here to quit Jury. James assured him the house was bigger than the Big Brother house and it'd be okay. Another time Paulie told Corey maybe he'd see him there at the house if he's evicted soon after him, suggesting he'll only stay for a bit. Paulie is being a very poor sport here as he's effectively defeated and feels the rules don't apply to him. Think Big Brother will let him get away with that?
Finally last night Big Brother forced the issue on the pies after going an entire day without a single request for Paulie to, gasp, bake. Both Paul and Corey got their punishment costumes on Saturday night, but it was Sunday evening before Big Brother introduced Paulie's punishment.
Big Brother finally loaded up the storage room with a stack of pie dishes, apples, crusts, and pie filling. Oh, there was a costume too. Just after 7PM BBT last night we finally found Paulie in the kitchen preparing a pie. Earlier in the day Paulie said he would make just one pie and no more. I didn't think these punishments were open to negotiations. Paulie must think so though after what happens next…