We can't expect a full blindside this week on Big Brother 18, but the core target and allies will be shocked when the eviction vote is announced. The house is shifting and more are becoming aware of what's ahead and what they need to do moving forward. Abandon ship!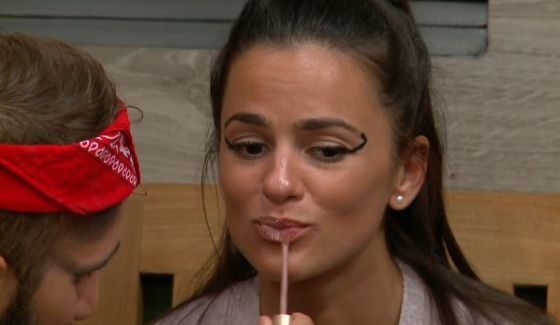 If you've got the Live Feeds (Free Trial) then you can watch all of these moments with the Flashback feature to go back and watch those important conversations or funny scenes that you might have missed. Hope you enjoy these again this year!
Read Wednesday's daytime Feed Highlights report to get caught up before the night report below.
Big Brother 18 Live Feed Highlights – Wednesday, June 29, 2016:
3:35 PM BBT – Michelle is stressed and crying in the Lounge. She's tired of the pixels punishment and upset because she has gained weight. Frank comes in to comfort her.

4:50 PM BBT – Team Frank has officially been freed from the pixels punishment. Frank, Michelle, Bridgette, and Paulie are now all free to wear clothes again. Paulie is expected to politely decline.

5:15 PM BBT – Frank says he spoke with Natalie to figure out how she'd be voting. She won't specify but just that she wants to vote with the majority.

5:25 PM BBT – Frank jokes that he asked DR for a Polaroid camera so he could take Jozea's picture when the vote is revealed.

5:35 PM BBT – Jozea bashing session going on as they mock his delusions.

6:15 PM BBT – Paul, Jozea, and Frank talking eviction and HoH comp. They're talking about needing to win the comp and take control.

6:25 PM BBT – Paulie joking about some good dramatics he could pull during the eviction show like whispering to Jozea to say Hi to Julie for him and whispering to Bronte that he's coming after her.

6:52 PM BBT – HGs talk about what the HOH competition will be. They don't think it will be an endurance competition.

7:25 PM BBT – 8 Pack and Paulie (why don't they just add him?) are discussing ways to mess with Victor since he gets so uptight over James' pranks.

7:44 PM BBT – Paul tells his boys that he's nervous over the people in the HOH room and how they were all acting weird.

7:50 PM BBT – Jozea says that Da'Vonne was voted out by white people her season and that she won't side with them. He also says that Zakiyah won't be swayed and the others think Frank is solid too. Talk turns to who Jozea will put up when he stays and wins HOH (heh). He says he will put up Nicole. Victor thinks it should be James. Jozea thins James and Corey would be a good idea because then Nicole would be left alone (not much he says makes sense).

7:57 PM BBT – Frank tells Natalie that Victor asked Nicole on a date.

8:04 PM BBT –  Jozea grils Tiffany over who she's voting for. She says she's voting with the house and implies that he is safe. When she asks who he will target he says he has four people in mind, not necessarily vets.

8:08 PM BBT – Natalie asks Nicole for the truth about Victor asking her out. Nicole explains that he said he liked her and suggested they spend time together outside the house, so it wasn't a formal invitation. She also says it was just strategy on his part. Natalie tells her she wouldn't care if Nicole likes him. Both agree they don't like him like that and are upset that he's lying about it.

8:20 PM BBT – Natalie tells Tiffany that she thinks the voting is starting to shift. She thinks Paulie is too chill and that he should be worried but he's not. Tiffany tries to find out how Natalie is going to vote but Natalie is confused and unsure.

9:00 PM BBT – Corey tells Nicole he can't believe Natalie told him she thinks he's gay. But he says that girls always think he's gay.

9:10 PM BBT – Tiffany tells her alliance that Natalie will vote with the house.

9:15 PM BBT – Paul continues expressing his hatred for Michelle and says after the eviction he's going to be vocal about it.

9:20 PM BBT – And Frank and Zakiyah continue expressing their concern over Tiffany. They are still worried she's a loose cannon. Frank says she might need to go next and that he could win Road Kill and put her up.

9:30 PM BBT – Victor says production told him he can't hit anyone.

9:31 PM BBT – Jozea continues to think that James is the mastermind of the other side. He says they need to get rid of him to weaken their group.

9:54 PM BBT – Jozea, Bronte and Paul think they still have Day's and Zak's votes.

10:00 PM BBT – Bridgette says she feels safe but thinks she should pack a bag any way.

10:14 PM BBT – Frank explains to Natalie and Bridgette that Jozea is probably getting voted out. He tells Natalie to vote how she wants but don't throw him under the bus. She says she won't. She says she doesn't go back on her word so she can't vote against Jozea. She said she knows that Frank wouldn't ever vote against his teammate (Paulie). Natalie says she thinks it's common sense that Paulie is going to be safe tomorrow but she's not going to say anything.

10:18 PM BBT – Frank tells Natalie she needs to throw HOH since she's safe and she won't have to do any dirty work. He tells her that people have made themselves targets and implies she has nothing to worry about. Natalie is worried still but sees that Paul and the others don't include her in conversations.

10:24 PM BBT – Jozea and Paul make plans on who will be going home next and how they're going to win HOH and Road Kill every time.

10:43 PM – Natalie tells Victor and Bronte that she has a feeling that Jozea is going home. Victor looks shocked. Natalie asks if they really think that Frank is going to vote against Paulie who is his teammate. Victor says yes Frank has given Jozea his word. Natalie plays it off and says OK then. Bronte and Victor are convinced Paulie will go.

10:53 PM BBT – Frank and Natalie meet up again. Natalie is growing more and more suspicious of her side of the house. Natalie tells Frank that she wishes he would've come to her sooner. Frank tries to cover and says he didn't know and that he's been lied to. Natalie asks Frank if Bronte is safe too because she's her best friend in the house. Frank says he isn't sure but can say for sure that Natalie is safe.

11:00 PM BBT – Natalie is feeling more confident but still nervous and worried for Bronte.

11:04 PM BBT – James tells Natalie that he doesn't lie and that when he told her what went down with Victor and Nicole he was being straight up. He explains that he and Victor have bad blood but he wouldn't make anything up. Natalie says she's seeing the writing on the wall with Victor and Paul and those guys.

11:05 PM BBT – Meanwhile, Nicole asks Victor if he likes Natalie and he says not at all.

11:15 PM BBT – Natalie lets Bronte know something is up. Natalie plans to keep her word to vote to keep Jozea, but after that she's changing her game. Bronte thinks the votes will hold and Jozea will stay with Day and Zakiyah's votes.

11:30 PM BBT – After talking to Victor, Nicole relays to her allies that Victor is planning to throw the HoH competition if it's teams.

11:55 PM BBT – Natalie is trying to recruit Bronte and Bridgette to stick together after the coming storm. Bridgette doesn't trust the other side though (if only she knew what her side had been saying about the punch-ability of her face…).

12:00 AM BBT – Bronte warns Natalie against James and Frank. Says they can't be trusted.

12:10 AM BBT – Nicole lets Corey know Bronte wants to put the two of them up together.

12:20 AM BBT – Tiffany lets her allies know the Spy Girls all expect Jozea to be evicted. Tiff thinks Frank revealed it to protect himself.

12:30 AM BBT – Frank comes in and isn't happy about the accusations. Group breaks up. Paulie and Corey say they trust Frank and Paulie thinks it's okay if Frank told them.

12:50 AM BBT – Jozea finally entertaining ideas that he may be evicted. He says he'll start cursing and go out the backdoor instead. (No, he won't.) He even promises to curse at Julie. (Nah.)

12:55 AM BBT – Bronte is in the mood for more face punching. Still no word on if she wants to send James on more international travel though.

1:00 AM BBT – Tiffany is crying and freaking out over Frank. She's doing it in front of her allies and in front of Bridgette and Bronte. Sigh.

1:20 AM BBT – Paul tries to find out why Tiffany was crying, but no one will tell him. He gets pissed off.

1:25 AM BBT – Frank points out how Tiffany is doing what her sister did. Intimidate, cry, then reap rewards. Rinse and repeat.

1:40 AM BBT – Eight Pack wants Michelle to go bring Tiffany back down to calm since they get along well. Michelle isn't sure if she wants to work with someone who is that emotional.

1:45 AM BBT – Da'Vonne is concerned about James going rogue and doing his own thing. Zakiyah agrees.

2:30 AM BBT – Jozea talks about his really nice goodbye message for Paulie and he can't wait for him to see it.

2:30 AM BBT – James checks in with Natalie and asks who she thinks will be evicted. She says Jozea.

2:40 AM BBT – Jozea and Paul are upset with Natalie for talking with James so much. Paul thinks everyone is an idiot.

2:50 AM BBT – James talking with Natalie still. She knows Jozea will go "100%" but she's sticking to her promised vote to keep him. James says that's okay. Natalie doesn't like how her side is playing. Too irrational for her tastes.

3:15 AM BBT – Jozea tells Natalie not to worry. They've got 6-7 votes on his side.

3:30 AM BBT – Frank, Corey, and James discuss the idea of dropping Tiffany and adding Natalie to the group. They don't think the rest of the girls would agree. (They might at this point.)

3:35 AM BBT – Jozea stayed up a bit longer going over votes in his head. Maybe it's finally sinking in? Nah.
Things were all over the place last night. People are finding out the votes are shifting and the house tension is running high. Things are going to get even more crazy after tonight's live show. So be sure to stick here with us through all of it.
You can watch all of these Big Brother events using the archives Flashback, the DVR-like feature of this year's Live Feeds which means it's always live, even when you missed it! Sign-up now and get the free trial to watch it all live & uncensored.


click images to see full-size