Just when you thought Jozea's ego couldn't get any bigger, Wednesday's episode of Big Brother 18 shows us just how wrong we were.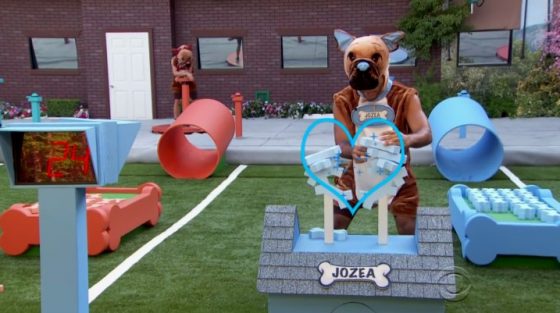 The episode picks up right after the Road Kill Ceremony. Paul is now on the block and Frank is laughing because no one suspects him as the person who pulled that trigger.
Jozea Flores, aka The Messiah, decides that Paulie Calafiore needs to go because he's a veteran's brother. And since Jozea runs things that's what's going to happen. Right? Hahahaha. Jozea also decides that Michelle is the one who won the Road Kill competition and nominated Paul.
Zakiyah reminds us that she, James and Da'Vonne all know that Frank won the competition, but he's telling them he's convinced it was Michelle. So they all play along to help keep the 8 Pack alliance under wraps.
Paul's paranoia spikes when he sees Bridgette laughing along with Paulie and he starts to wonder if Bridgette put up Paul to help cover her team instead of her alliance. Paul gets Victor in on the paranoia, but Natalie and Bronte try to squash that to help out their fellow Spy Girl.
And it's time to pick players for the first veto competition of the summer. Joining Nicole, Jozea, Paulie and Paul are Da'Vonne and Corey. The 8 Pack is happy because they have three of their members playing the veto and their chances of keeping nominees the same are pretty high.
The Veto Competition finds the HGs in embarrassing and cheap dog costumes paired with stupid sound effects. Let's just skip ahead to the results. Despite the numbers the 8 Pack had in the competition, Paul wins the Power of Veto.
Paul is happy he won the veto, but the people who are eligible for nomination are starting to swear it. OK, only Bridgette is sweating it because everyone else knows they're just fine and Frank isn't going to nominate them.
Elsewhere Tiffany decides to tell Paulie that she's Vanessa's sister. And they strike up an agreement to take care of each other. So we have a little siblings alliance now.
It's time for The Messiah to part the seas or whatever a messiah does. Jozea calls a meeting to make sure all of his "followers" vote out Paulie despite whomever the secret Road Kill winner dominates. The rest of the episode is of Jozea talking about how wonderful he is, how smart he is and how he runs the house.
At the veto ceremony, Paul of course uses the veto on himself and Frank goes with the only possible replacement nominee: Bridgette.
So either Bridgette, Jozea or Paulie will be evicted Thursday night. And even though I'm going to miss Jozea's delusions, I'm pretty sure it will be Jozea who will be walking out the door.
Click images to view larger