The Big Brother 18 Final 3 continue to count down the days and Nicole and James had the Final 2 talk that proves Paul is having an influence on Nicole's decision that once seemed set in stone.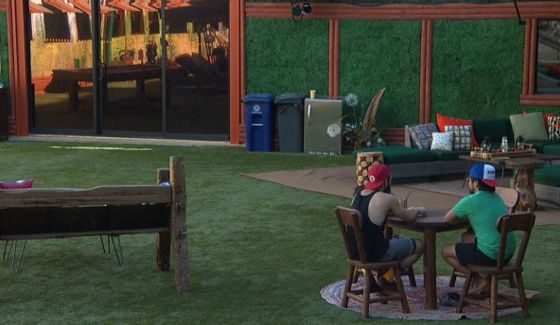 If you've got the Live Feeds (Free Trial) then you can watch all of these moments with the Flashback feature to go back and watch those important conversations or funny scenes you may have missed.
Big Brother 18 Live Feed Highlights – Sunday, September 18, 2016:
12:00 PM BBT – The day has begun for these final three Houseguests.

12:10 PM BBT – Nicole is working on her F2 speech. She says she wants to have one prepared for going up against James and against Paul. Nicole begins stating her case starting at day one and how she lost comps but stayed in the game then made an alliance with Corey.

12:15 PM BBT – Nicole continues her monologue explaining her game and how she hid from everyone to hang out with Corey to avoid betraying HGs. She says she and Corey helped each other and that she didn't just hide behind him. Nicole says James made a mistake by taking out Corey because he wanted to take him to F2, but she didn't want to take him.

2:30 PM BBT – HGs get the backyard again after it was closed down. They head outside.

3:07 PM BBT – Paul practices his speech. He says he knows he was a target as soon as he walked in to the house for being the loud obnoxious guy. He escaped the block six times thanks to his strategy and efforts along with winning comps to stay safe. Paul says he had Victor with him for help but other than that he played on his own without even a Care Package. He then went on to win his way to the end. Paul closes with friendship.

3:15 PM BBT – HGs are relaxing outside.

3:30 PM BBT – Nicole, Paul, and James discussing partners in the game and how their moves impacted them. Nicole says she would have always used the Veto to save herself and asks if James would have really saved Natalie with it if he won. James is uncertain and still blames himself for her being on the Block.

4:15 PM BBT – HGs playing cards. Nicole laughs about when she was fighting with Paul then Corey came over to change out of his costume and was oblivious to their fighting.

4:20 PM BBT – Nicole admits neither she nor Corey bothered to study for the weather themed Veto competition.

5:05 PM BBT – Final 3 talking about secrets from the game. Most of the talk is about Paulie, Frank and Da'Vonne. Nicole tells them that Tiffany wasn't lying about the Da'Vonne stuff. James and Paul say they didn't know any of the secrets Nicole revealed to them.

6:13 PM BBT – James isn't too happy with all of Nicole's secrets. He feels like she was blowing up his game.

8:01 PM BBT – The HGs are doing nothing. Paul says there's nothing for them left to talk about. They've literally talked about everything.

8:15 PM BBT – Paul and Nicole both practice their speeches unbeknownst to the other.
Feed Highlights continue on the next page…