Paul Abrahamian has worked his way through the Big Brother 18 season to the Final 3, an amazing feat when you consider he was a Week 1 nominee followed by five more nominations along the way while only collecting two votes against him near the end of the season. Now just steps from the Final 2 Paul may be faced with a big choice that could decide whether or not he will win Big Brother.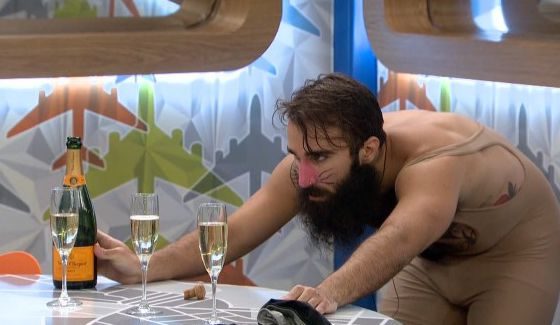 Paul has two options to pull along to the F2 if he's the one calling that shot on Wednesday night. Either Nicole Franzel or James Huling could end up catching a ride with Paul and from what we've been watching on the Feeds, unlike Nicole's wavering plans, there's no doubt in Paul's mind over who he'll take.
Since last Tuesday Paul has been telling Nicole he wants her at the F2 over James or even Corey back when he was still in the game. That hasn't changed. Paul doesn't like James's style or play and doesn't think he deserves the chance at any prize money.
With Paul having won the first round of the Final HoH competition series he'll need just one more win to secure his spot in the F2. Should that happen then he will pick Nicole to come with him. I have no doubt about that.
Over the past few days Paul has affirmed over and over to Nicole his desire to get to the end with her. Words are one thing, but actions are another and here they match up.
Paul spent time "helping" James study for Round 2 by feeding him wrong information like the wrong spelling of Zakiyah's name and distracting James with ideas of preparing for name spelling questions instead of game events or things around the house. Paul was also busy trying to keep James awake later at night to wear him out ahead of R2. I'd say Paul is true to his word here with Nicole.
We did see talks between Paul and James where Paul was acting like he was with James, but I think that was just acting on his part. He was probably wisely keeping the options open until they got through the second comp. That's now over and Nicole pulled the win there. At this point we can watch to see if he gives any direct details to James on his plans to take Nicole.
If Paul takes Nicole to the end I think he does have the votes though I'm not convinced it'd be a landslide by any means. Should Paul surprise me and take James then I'd expect his path to the win be easier to secure, but Paul, like many other past HGs, is making his F2 pick for personal reasons rather than best-chance reasons.
twitter-tweet" data-lang="en">

Paul promises Nicole she is without a doubt his F2. Nicole says he is hers too. They hug. #BB18 pic.twitter.com/JEItnbhqaQ

— Big Brother Network (@bigbrothernet) September 18, 2016
What do you think Paul will do? Share your thoughts below on what Paul might do on finale night for picking a F2 partner and anything in the recent weeks that supports your expectation. You can also vote in our poll below and see what the rest of our readers think might happen.