James Huling is in a bit of a pickle on Big Brother 18 having come this far but managing to win next to nothing save for an HoH thrown to him by two HGs. Losing could be a tough streak to break at this point.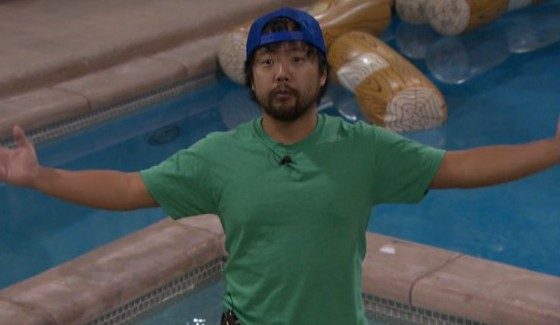 We're through the first two rounds of the Final HoH competitions and we know how things are set up for Round 3 on finale night this Wednesday. So what is James planning to do to get to the F2? He has shared his game plan so let's take a look.
Flashback to 8:36 PM BBT 9/17 Cams 1/2 as James is alone in the backyard.
James tells the cameras, "I think I'm in a really good position right now," as he believes both Paul and Nicole are going to take him on to the F2. His big worry though at this point is letting Nicole and Paul get a moment alone so they can make a F2 deal. Well, he's days too late on that one.
Paul has been telling James for near a week that they're together on this one and he's taking James. This was a lie to get James to let his guard down. Now that the first two rounds are over Paul has cooled that talk since there's no need, but he hasn't told James that the deal was fake just yet. No reason to either since James would be a Jury vote in Paul's own F2 plan.
As for Nicole, she had also been telling James "1000%" she'd take him to the F2 but once the second round was over and she secured her own spot in R3 those talks cooled as well. When he asked her Saturday night about what she might have told DR for her F2 plans she completely dodged the question and instead told him both she and Paul had told James they would take him.
James tells the camera that he thinks he has the Jury votes to win if he gets there but I don't see it. He says if he gets to F2 against Paul then he'll definitely have the 5 votes to win, but James isn't so certain if he's up against Nicole. Paul and Nicole would both likely beat James if either are standing next to him which makes it funny that neither might be opting for that situation.
Since this camtalk session by James took place I don't believe Paul has hinted to James about his own F2 plans to take Nicole, but last night Nicole started to let James know she was questioning the idea.
Watch at 8:21 PM BBT 9/18 as Nicole lets James know she's worried he's already stacking up the votes if she takes him to F2. She counts off Natalie, Michelle, and Da'Vonne as votes for James over her and says he has nearly no blood on her hands while she's covered in it.
The talk continues for a half hour between the two as she counts off Jury vote concerns before Nicole leaves. At 8:52PM BBT James whispers to himself, "I knew I had the Jury votes, but I didn't want her knowing that. S**t."
With that conversation in mind James should be pretty worried about Nicole winning R3 but she has been somewhat wavering the past few days though all he has right now is her detailing to him why she shouldn't take him. I don't believe Paul has had that same talk, but his decision seems more personal than strategic against James. He doesn't like how James has played and won't consider taking him to F2.
Either way, James might be up the creek at this point. Paul definitely won't take James and now Nicole appears to be leaning strongly against taking him. James could be shaping up to become the 9th Juror for Big Brother 18.
What do you think of James's chances of getting to the end? Will anyone take him at this point or is his Big Brother 18 game dead in the water?