Our last Saturday of the season and no Veto competition in sight for the Big Brother 18 Houseguests. Instead it was a lazy day of sleeping in and game talk mixed throughout as Nicole, James, and Paul were counting their potential votes.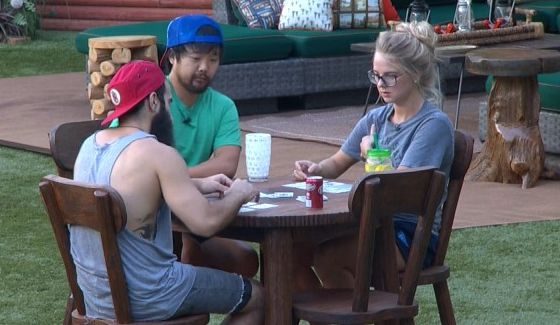 Only a few days left for the group to go as Paul continues to work on shoring up his F2 deal with Nicole and James hopes that won't happen.
If you've got the Live Feeds (Free Trial) then you can watch all of these moments with the Flashback feature to go back and watch those important conversations or funny scenes you may have missed.
Big Brother 18 Live Feed Highlights – Saturday, September 17, 2016:
1:30 PM BBT – James and Nicole are the first ones up. Nicole is taking a shower and James sits nearby to talk. He tells Nicole it'll be crazy if 2 Vets make it to the F2 this season. James says everyone will think they had a F2 deal.

3:15 PM BBT – Paul is up and comes across James. Everyone had gone back to sleep. They discuss just a few more days left in the season.

4:10 PM BBT – Backyard lockdown is over and HGs go outside to get some sun.

4:58 PM BBT – Nicole is alone and counting Jury votes. She gets to five when she's considering taking James, but doesn't get the same ones with Paul by her side in F2.

5:00 PM BBT – Nicole says to herself that she doesn't want to take James to F2 because he doesn't deserve $50K for his game and she'd be very upset if he ended up beating her.

5:03 PM BBT – Nicole complains that all James did this summer was stay in bed, chase his showmance partner, and make moves for her benefit. (Um.) Then he backstabbed everyone. (Double um.)

5:05 PM BBT – Nicole worries if she cuts Paul then he and Victor will be bitter and vote for James over her.

5:10 PM BBT – Paul has joined Nicole. They complain about James's cocky attitude. Nicole says James has changed since Natalie left. Paul says both James and Natalie were being fake to try and get AFP votes.

5:45 PM BBT – Houseguests are playing cards together.

6:15 PM BBT – Game time shifts over to billiards.

7:00 PM BBT – Dinnertime.

7:55 PM BBT – Paul and Nicole discussing James's game play again. Paul says James is trying to make himself out to be the new Victoria and an easy choice to take to the F2. Paul says Victor and Corey deserve to still be here a lot more than James does.

8:37 PM BBT – James is alone in the hot tub and starts camtalking. He thinks he's in a great position with both Paul and Nicole wanting to take him to the F2. James doesn't want to go to bed in case they start making F2 deals. James thinks if he can get to the F2 against Paul then he'll have Nicole, Corey, Michelle, Natalie, and Da'Vonne's votes. He's not so sure about going up against Nicole though.

8:50 PM BBT – Paul tells James he doesn't want to watch BB18 episodes until next year. James says he only ever watched a few from BB17.

10:05 PM BBT – HGs received a cookie kit from BBAD. Off to the kitchen they go.

10:40 PM BBT – Owl cookies are done baking and it's time to decorate.

10:50 PM BBT – Paul asks DR if they can have the HoH iPod back. DR says no chance.

11:40 PM BBT – Paul wakes up Nicole to talk about James. Paul says he'll just tell James if he asks that he's not taking him to F2. Nicole says she hasn't even started on her speech yet.

11:50 PM BBT – Paul tells Nicole he thinks she has a good shot at beating him (Paul) but Nicole disagrees. They wonder if James thinks he could beat either of them.

11:55 PM BBT – Nicole wonders if the Jury likes James. Paul points out Natalie will have had weeks to work on them.

12:00 AM BBT – Nicole is worried the Jury is bitter and she'll lose either way. She worries that she won't have any of the girl votes. Paul says she'll get a lot of support for being a Vet who made it to the end despite the odds.

12:05 AM BBT – Nicole says the idea of Michelle asking her a Jury Q&A is really stressing her out.

12:15 AM BBT – Paul can't believe James would expect either of them to take him to F2. Nicole suggests James is getting nervous and doesn't expect that to happen.

12:30 AM BBT – Nicole says guys always like her but girls never do and she doesn't know why.

1:00 AM BBT – Houseguests are off to bed for the night.
Nicole sounds more concerned about taking Paul and losing but her fear of taking James and still losing may influence her final decision. Paul still sounds set to take Nicole if he wins R3.
You can watch all of these Big Brother events using the archives Flashback, the DVR-like feature of this year's Live Feeds which means it's always live, even when you missed it! Sign-up now to get the free trial to watch it all live & uncensored.

click images to see full-size