The Big Brother 18 houseguests had a pretty quiet day inside the house as James, Natalie and Michelle continue to believe that Paul is the target, despite how comfortable he seems. Nicole and Corey also came up with a plan for the $5,000 bribe. Read on to find out what they discussed.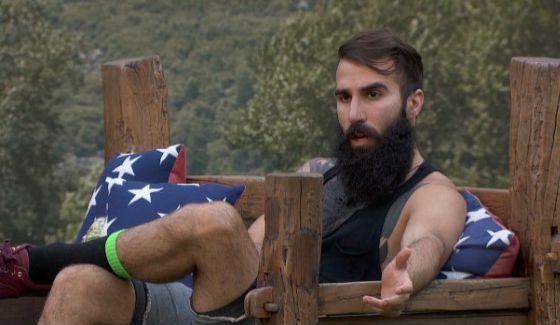 If you've got the Live Feeds (Free Trial) then you can watch all of these moments with the Flashback feature to go back and watch those important conversations or funny scenes you may have missed.
Big Brother 18 Live Feed Highlights – Sunday, August 28, 2016:
11:15 AM BBT – HGs finally getting up for the day.

11:55 AM BBT – HGs on an inside lockdown. Victor mentions hearing cheering outside.

1:00 PM BBT – HGs hanging around chatting. They think James will get AFP this season.

2:00 PM BBT – Lazy day with HGs napping. Not much going on.

2:20 PM BBT – Natalie thinks Victor is staying away from Paul. James suggests Victor knows Paul is going home this week. (James doesn't know the real plan yet.) They hope Victor doesn't win HoH or they expect him to send them both to the Block for voting him out last week.

2:41 PM BBT – Houseguests in the backyard when a drone flies over. Michelle screams and runs for the house. Feeds cut. [Drone had a blow up doll attached with a non-game related message on it for the HGs. They didn't get to read it.]

3:22 PM BBT – Feeds return.

3:25 PM BBT – HGs discuss the flyover drone but mention they aren't supposed to discuss. Now they're trying to figure out if it was a message for one of them and if they are being told to change plans.

3:30 PM BBT – Natalie thinks the doll was probably mocking her. Michelle thinks Nicole will use the doll's message against her. Elsewhere Nicole is suggesting Michelle will use the doll's message against her.

3:30 PM BBT – Nicole is nervous again about Victor betraying them and how they need his second vote this week.

3:45 PM BBT – Nicole is still worried about the drone and if it had a message for her game.

4:00 PM BBT – Natalie notes the drone and its doll was a waste since no one could read it. Michelle says she was scared and worried it might have been coming to attack them.

4:15 PM BBT – Houseguests still trying to decipher the message and have no idea but keep guessing. Victor and Corey wonder if it said something about Natalie being the target.

4:20 PM BBT – Nicole worries that the message was about fans being upset with her for voting Michelle out. (Remember from BB16 that Nicole was afraid to vote out FG because she was afraid his sister's fans would be upset at her…)

4:30 PM BBT – Natalie and James telling Michelle to work on her attitude with Nicole and make sure she's being friendly with her.

5:05 PM BBT – Michelle is getting upset and discouraged. She says everyone has abandoned her and she doesn't like anything about herself anymore. Natalie tries to comfort a crying Michelle.

5:15 PM BBT – Michelle still upset. Natalie tells her she needs to lay low and not make herself a target. Michelle thinks Paul feels safe. Natalie says if Michelle was the target James would know.

6:50 PM BBT – Natalie tells James she's been cranky the past couple of days because she's dieting.
Feed Highlights continue on the next page…